This matches the pic in the Patterns Book at the Museum ....
I had seen it in a 2nd Hand shop and recognised it so went back and happily paid the $4 for it.  It has Genuine Ironstone on the back.


Last edited by Ev on Mon 4 Jan - 20:22; edited 2 times in total
I've seen a couple of listings on Trademe for this pattern in warm brown tonings.
So now I'm not sure if the dark or the brown is Vila ....?
Everything in the Patterns book at the Museum is in black and white !!!!
Will have to wait until I get back to the Museum to find out what colour the cups were that went with it ..... darn!
Looked at this pattern closely and there are two versions ... Buff and Ivory and they both use the same pattern name.  There was a photo of the one above and the cups were dark brown coffee cans, they had the cups as Rusticanna glaze in shape 3038.
Last edited by Ev on Wed 11 Mar - 15:09; edited 1 time in total

korreen




Number of posts

: 8


Registration date :

2012-09-14



Hi Janice, I have a photo from the Museum for Vila, but have just missed the cup in the photo. They say that the shape is 3038. Could you help please? I feel like I've asked you this already .....?
It shows the same colour cup for both variations.( Ivory & Buff)
3038 - Rusticana inside and Outside

Edits to remove pic

JanPots




Number of posts

: 2066


Registration date :

2012-05-10



Eeeeek new information to hand shows this pattern as Fernando d870 and yet it looks the same as Vila. There must be some differences that I don't pick up on and it doesn't show what shape it is on ......
I've been checking this all out since finding another version of this pattern that has a soft speckled background ,.,.,.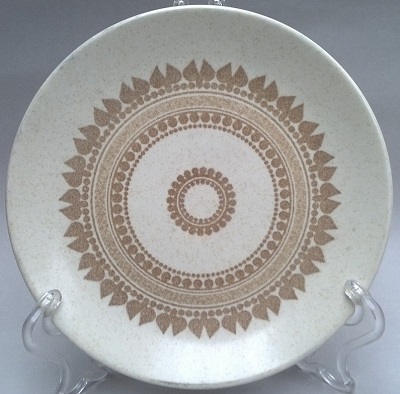 Plus this from the records at the Portage Museum, which makes me think that the first photo is Fernando d665 from the words written near the bottom 'Vila on Plain white'
Edits to remove pic
AND this pattern makes the pattern total 1300 all up including heaps of no-namers!
I think Janice has family over from England, so I will wait for her to comment.
Last edited by Ev on Wed 27 Jan - 14:16; edited 1 time in total
HIya- good finding Ev - I wonder what Fernando d870 is as well? ( yes family is here - they are all outside for now - running round mental !!! :O) )

JanPots




Number of posts

: 2066


Registration date :

2012-05-10



There is a photo that has Fernando with 870 written on it .... looks the same as Vila too. Not sure what to make of it all, so will wait for more into to come to hand.
With Janice here to help today, I think we have sussed out these two patterns.
The one with the Plain White background glaze is Fernando d665 and the Buff one is Vila d262. The Fernando 870 is still a mystery at this stage.
---
Permissions in this forum:
You
cannot
reply to topics in this forum