Notes taken at Final day of Crown Lynn Exhibition at Gus Fisher Gallery.
Lorraine Wilson , Portage Ceramic Trust and Juliet Hawkins who catalogued the
Richard Quinn Collection, some of which was included in the exhibition, gave a very interesting talk about the Trust, its History and hopes for the future.
The Richard Quinn collection of Crown Lynn totals some 6000 pieces some of which are shards. Richard collected most on his own after the company closed on May 5 1989 and stored the finds in his Garage , House , garden and under the veranda.
Waitakere City Council took over the collection but then failed to look after it?
Richard took them to court and won the case. Richard died before any of his collection could be exhibited.
It had been stored at the old Corbans Homestead. Museums were not interested and finally the Portage Licensing Trust gave sufficient money to cover the lease of a warehouse on the understanding that a special trust be formed to look after the collection and so began the Portage Ceramics Trust.
The Collection was then moved to a suitable warehouse, valued and catalogued with more funds being donated to the trust to cover the costs involved. ASB Community Trust, Lotto and Portage Licensing Trust were major contributors.
It is proposed that the collection be finally sited at Ambrico Studio next to the old Kiln in New Lynn once that building has been suitably fitted out. There has been delay in getting this done due in part to the amalgamation of greater Auckland City and a final date is not available.
Once this happens it is intended to store, exhibit, research and hold lectures on the
history of this once proud company which was a very important part of West Auckland during it's more than 60 years of production. A collection of oral archival history is also proposed.
The trust has an important Shufflebotham piece in its collection , this is the only copy signed by the designer of the 1000 1953 Coronation Mugs made, it was inherited by Ernest's son who was also able to confirm that 'botham' is the correct spelling of the family name.
Juliet Hawkins who had worked at Crown Lynn in the design department up to 1983 also spoke and described the task of cataloguing and valuing the Quinn collection including cleaning and storing in a safe manner. Juliet had latterly worked at the Auckland Museum and skills learned there served well in this task.
She also mentioned how when Jonathan Hunt became speaker of the house he discovered that Bellamy's was using English China. As the member for West Auckland he soon saw to it that Crown Lynn became their china.
Juliet recalled how it was quite common at Crown Lynn for staff in the design centre to take out their frustrations of a design that was causing a problem by going to a bin of seconds and literally having a smashing time.
A lady in the audience had brought along her certificate of competence in making porcelain flowers having completed a course run by Crown Lynn.
Loraine mentioned that she has a plate that she inherited which was painted by a Crown Lynn artist/decorator especially for her mother as a gift . Apparently it was accepted that staff could decorate and keep such pieces from time to time. They were called 'Homers' . As this piece is signed by the artist it has a better than average value. The artists name was not mentioned.
The Trust intends to run an Art & Object day with expert valuers on site who will value items for a moderate fee, the proceeds going to the Trust funds, the date and details will be advised later in the year.
All in all a very interesting and informative afternoon.
Finally , it was suggested that the Crown Lynn story as important historically to New Zealand as Tutankhamens Tomb is to Egypt.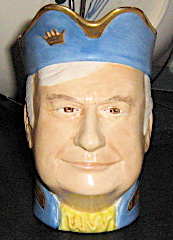 I think he would have been quite pleased with both the talk and the exhibition.
Last edited by Jonno on Wed 18 Jan - 20:06; edited 1 time in total (Reason for editing : change bought to took over Par 3.)

Jonno




Number of posts

: 662


Location

: Milford,Auckland


Registration date :

2011-05-13



Thanks so much Jonno!
A very fitting way for the final day of the Exhibition to end on that note of promise for the future. I really enjoyed the analogy to King Tut's tomb
Great to hear that there will be future Crown Lynn valuing Roadshows with Art and Object. I went to one a couple of years ago, though it didn't cost anything that time, but the enormous variety of wares that I saw was amazing and it was so popular!
So the Super City has slowed progress regarding the Museum ... I can wait
PS The Waitakere City Council didn't buy anything from Richard in his lifetime. Bob Harvey decided that the parts of the collection that were at the Ambrico kiln site belonged to the council and he arranged to have them moved and stored somewhere else. Eventually Richard's property was returned him and the council directed to apologise and compensate him. Ironically WCC photos were used to show which items were damaged or destroyed while Bob was doing his stuff.

I can't recall ever seeing under-verandah storage at Richard's house and I think that Art + Object played Lorraine Wilson into paying an over-inflated price for the piece that has the Shufflebotham spelling on it in the apparent belief that its existence means that the none of the other spellings of the family surname were used in New Zealand. That the lathe and wheel used by the potter formerly known as Shufflebottom are in the Portage collection is I think more interesting.

Richard was always about accuracy and backing up claims by examination of as wide a variety of contemporary sources as possible. I think he would have viewed the exhibition as a curate's egg.

TonyK




Number of posts

: 652


Location

: Sydney Australia


Registration date :

2008-08-28



Thanks for your comments TonyK,
You will see that have I edited the original , deleting 'bought' and replacing with 'took over' the collection.



Jonno




Number of posts

: 662


Location

: Milford,Auckland


Registration date :

2011-05-13



---
Permissions in this forum:
You
cannot
reply to topics in this forum