There is an Earthstone listing on Trademe that must be Impressions as I've never seen it before. Will add the link when I get home. so that others can check it out.
This pattern is in the Crown Lynn Decorations records as part of the Earthstone Range. Perhaps it wasn't popular or was not made in any great amount?
Last edited by Ev on Sun 22 Jun - 9:15; edited 2 times in total
Here is the link -
http://www.trademe.co.nz/pottery-glass/porcelain-pottery/crown-lynn/cups-saucers/auction-489207962.htm
I may have seen the cups before ..... not sure really.
It would be lucky if someone has something in this pattern waiting to be identified..
I have the cup but have never seen the saucer but now I have the number
[/url]

Jonno




Number of posts

: 662


Location

: Milford,Auckland


Registration date :

2011-05-13



Hi, this cup is very similar to that of the Sandown range, the only difference I can see is that the brown lines are a bit wavy. I have cups with both straight and varying degrees of wavy lines which I have matched with Sandown, just assuming it is a glaze variation. cheers, marl

Marl474




Number of posts

: 674


Location

: Te Atatu Peninsula


Registration date :

2011-02-01



It does look the same as the Sandown cup doesn't it?
I have one but find the pattern very hard to photograph, as it can look very washed out or too orangey.
There are a couple of possiblities, either the same cup was used for both patterns, or the trader has matched up the Sandown cups with the Impressions saucers as the tonings are so similar .....?
So many pieces in the Earthstone range just have Earthstone on the backstamp without the pattern name I have found.
Hi there Jonno,
Well I have the saucer!
Somehow it doesn't seem to match your cup entirely.
Pic coming

Glenys




Number of posts

: 337


Registration date :

2012-08-29



Wooo Hooo
At last we have a pic of Impression d629 - thank you so much Glenys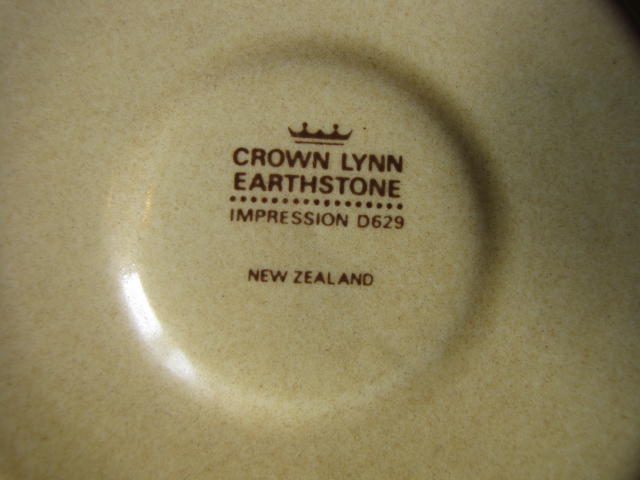 Because this is a Forma style saucer I am sure it would have had a Forma style cup. Possibly plain colour.
You are so right about the mix and match though. I remember going to the seconds shop and making up sets that appealed to us, from the stacks of plates and saucers and cups they had there.

Admin edits to add a listing on TM had these saucers with a plain 3041 cup in the warm toning and a dark brown interior

Glenys




Number of posts

: 337


Registration date :

2012-08-29



Hi Glenys, the cup shape is the one used on the Earthstone range, I have Landscape, Camille and Sandown in my collection and they are all that shape even thought the plates are forma style. Great to see "Impressions" it must be quite rare. Cheers marl.


Marl474




Number of posts

: 674


Location

: Te Atatu Peninsula


Registration date :

2011-02-01



Some more Impressions cups and saucers listed on Trademe -
check out the third photo ...

http://www.trademe.co.nz/a.aspx?id=744630885
---
Permissions in this forum:
You
cannot
reply to topics in this forum