Woops!!
Here is the reference to the gallery entry.
TonyK wrote:

Jonno




Number of posts

: 662


Location

: Milford,Auckland


Registration date :

2011-05-13



"Curiously I went looking because I had a vaugue memory from my journeys on DC8's that the cup to match the saucer you showed was the same shape as the series of small bowl types such as my DB Hotels and others posted recently."
Oh wow Jonno, that is exactly what I've been trying to determine for a few days now!
Is your DB Hotel cup and the Junk and Disorderly one the same as the DC8 one above, but with different handles????? There is another as well that has two of those funky handles. Also is the Dorothy Thorpe the same size and shape ??? I'm nearly there, but measurements for all of these may help .....
But no that is not the post I was looking for, where I've listed all of the Air NZ patterns that show up on the Database. This is another instance when I wish that the search button searches for numbers!! bah humbug!
Yes I think that these cups are all the same shape with a variation in the handle design in the case of Air NZ & two others.
Can't be sure about the size although they look to be the same to me.
The Dominion Breweries Cup that I have and the one that started all this measures.
Diameter            90mm at Top
Diameter            42mm at Base
Height                59mm  outside
Height                58mm  inside
The shape is a steady reducing curve from top to bottom.
The base is printed in green with the backstamp "Crown Lynn New Zealand
Super Vitrified" with a Crown in the centre of a circle.
New Zealand is impressed in the base in Capital letters just inside the outer docking ring.
I am attaching an impression of the five different cups for comparison, not a very good impression but the best I am able to do.
Hope this helps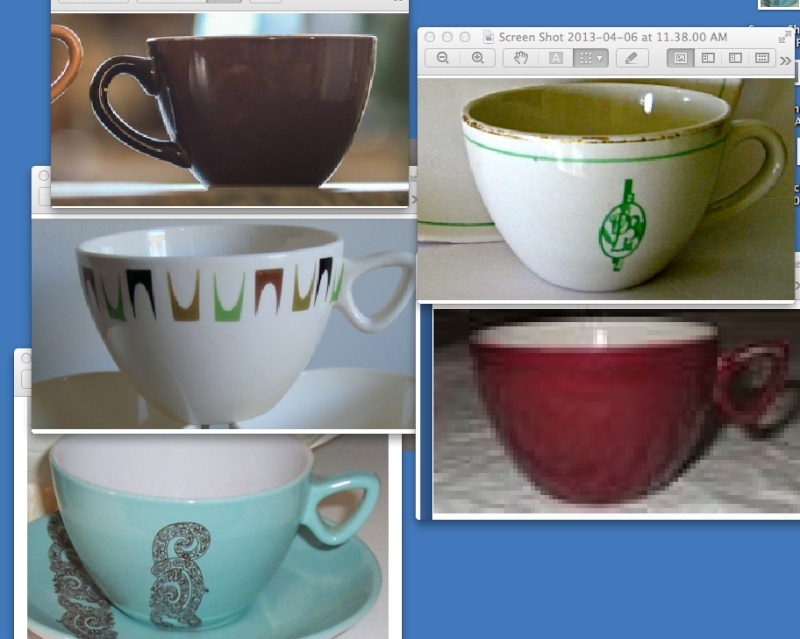 Thorpe cup added to show a quite different shape.
Last edited by Ev on Tue 30 Dec - 11:28; edited 4 times in total (Reason for editing : correct info)

Jonno




Number of posts

: 662


Location

: Milford,Auckland


Registration date :

2011-05-13



Just what I needed thank you Jonno
Yes I agree that they look like the same shape!
What about the ball handled Dot Thorpe cup too?
The shape 783 [3 digits] and 3010 [4 digits] seem to be a common factor .......
I will put all of my findings in here for future reference and add more when I find it:
783 - Teal Cup as 3010 [this is in the Vitrified section]
3010 - Wide coffee (as 783) March 1964 [this is in the Earthenware section]
3612 - Cups Vitrified as 783 or 3010 - 1964
3613 - Cups Vitrified Breakfast Cup as 3016 Dec 1965
3616 - Cups Vitrified as 3010 with 781 Handle [781 is what is called a tulip cup]
3617 - Cups Vitrified as 783 or 3010 with 2 Teal handles
3619 - Cups Vitrified 783 or 3010 with 3619 own handle [Red Thistle cup]
3622 - Cups Vit for Trillo's - records say 'Stacking hotel tea cup' [I thought these had funky handles for some reason?]
3629 - Cups Vitrified as 3610 with 2 handles [not sure why I have noted this?]
Modellers notes :
31st Oct 1963 - Enlarge and thicken new handle for shallow cup [drawing of funky handle]
Sept 30th 1964 - Model Ball Handle for 3010 cup.
TonyK wrote:
[/quote]
There are
NEW
Air New Zealand ware being made to celebrate 75 years of operation, but please check out the handles on these new cups ...... it doesn't look right to me!!
https://www.facebook.com/photo.php?fbid=1001038079911542&set=o.122151894515969&type=1&theater
Agree they are not the same handle shape, the Bogus Crown Lynn (CL was killed by the Merchant Bankers in 1989 ) has made a similar handle but the triangle is too geometrical whereas the original had curved corners and also stood away from the body further with a delicate but important curve to the body. TEAL and ANZ were very fussy about their Teal Blue.
Notice also the white rim on the outside of the cup, the saucer and on the handle. The colour is also different but that may well be the photograph.
Sorry Ev still does get the shape number that you were looking for.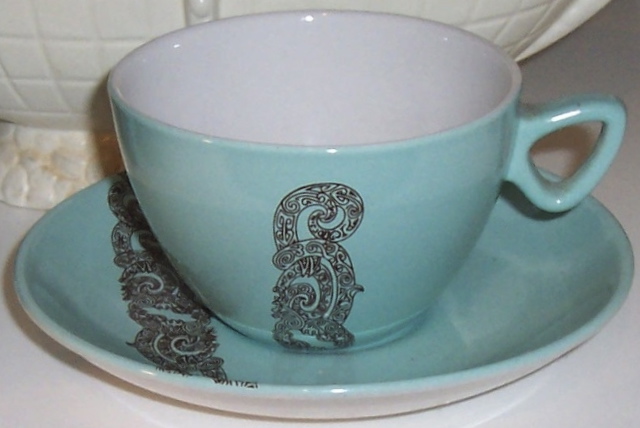 Jonno




Number of posts

: 662


Location

: Milford,Auckland


Registration date :

2011-05-13



Yes we have the shape number now Jonno - 3010
I will have another go at changing the title ....
I agree that the handle looks awkward and ungainly and isn't as beautiful as the original.
My guess is that Studio Ceramics would have made these and I hope someone will confirm that.
I checked with Studio Ceramics and they didn't make these.
---
Permissions in this forum:
You
cannot
reply to topics in this forum