We are in the process of clearing my Mum and Dad's house and have come across a Rhubarb swan with the numbers 3913 over the number 6 on the bottom. Can anyone direct me to a site where I might be able to get an idea of the value of this - and a description of what the numbers might mean please? Thanks.

meganana




Number of posts

: 4


Registration date :

2013-05-11



The early Crown Lynn swans are marked with fraction numbers that represent the different glazes that have been put on them. These were experimental pieces and most are truly magnificent! The odd piece didn't work, but most seem to have worked just fine.
Usually the numbers are single or double digits, and usually have three different numbers, so I am surprised to see a four digit number on the base of an experimental swan.
Would it be possible to post a photo of the base, or email it to the site on newzealandpottery@gmail.com please and I will post it here for you?
The rhubarb glazed swans are extremely beautiful and very prized among Crown Lynn pottery collectors. The value is hard to say, but I've seen them go up to $500 and over.
Wow - thank you so much for the prompt response and the info. It is in perfect condition which is wonderful. I THINK I have managed to upload the image but in case not I will e-mail also. Again - thank you for your help.

meganana




Number of posts

: 4


Registration date :

2013-05-11



Here are the photos that meganana sent ...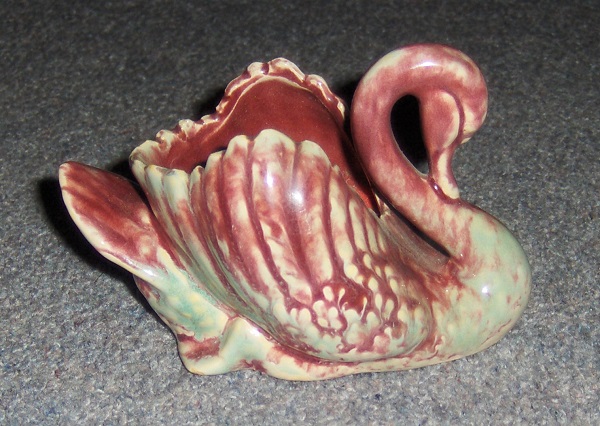 That is a beauty isn't it !!!
The fraction numbers are 39 and 13/6 which make sense to me.
Gorgeous! Rhubarb is such an apt name for this colour/glaze effect! Love it :-)

Cat-a-lat




Number of posts

: 1038


Location

: Palmerston North


Registration date :

2012-02-15



This swan has been listed on Trademe and as it's listed under Antiques & Collectables I will add the listing here in case anyone interested doesn't get to see it ...
http://www.trademe.co.nz/Browse/Listing.aspx?id=592525372&permanent=0
Sold to the highest bidder for $534.00
Just as well I didnt see it....

HeatherT




Number of posts

: 875


Location

: Whangarei, New Zealand


Interests:

: Crown Lynn animals, swans and vases


Registration date :

2008-08-28



---
Permissions in this forum:
You
cannot
reply to topics in this forum