Traders on Trademe are well known for matching up any old cups and saucers and plates and people swallow it all not knowing any different, but as I'm a nerdy geek I like to know what really goes with what!  JanPots [Janice] is keen to find out about the saucers too and with the new info from the Museum Patterns book it should make some of this research easier.  I had a look through my saucer stash and found that I had about 10 different shapes at least.  A quick look through the records show a minimum of around 25 saucer shapes, but some of these are the same shapes, but the three digit numbers have been replaced with four digit numbers if you get my gist.  Also the vitrified shapes have different numbers to the earthenware same shape saucers.......
Lets start with one we will all know -
The
805
saucer goes with the 781 tulip cups and the 3019 [shape 25] cups.  The 805 saucer became 4058 when four digit numbers came it ....!

The vitrified version of the 805 is shape
739
-
Another familiar one is the
792
coffee can saucer that goes with the 782 coffee cans like Mogambo, Napoli etc and these have a wide well for the coffee can.

The Apollo saucer
4019
with it's ribbed rim is another common one and goes with the 3024 Apollo cup.
The 4029 saucer goes with the 3038 straight sided mug that has a 'squashed' handle.
These were first made in June 1975 go this gives a time frame for patterns that use these shapes.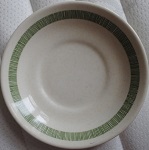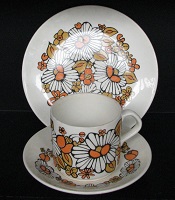 The Forma saucer is shape
4030
and can accommodate two different cup bases.

The saucer for the Modello Collection - Milano, Nouveau, Florence etc is the deep well saucer shape
4071
and the cup that fits is a 3078.
That's a start and I will continue when time permits.
Last edited by Ev on Fri 25 Oct - 20:49; edited 2 times in total
Silently smirking.... yes I too want to get the cup and saucer correct... good start Ev, I might get to the musuem next week, cant wait to see the pattern book .....

JanPots




Number of posts

: 1934


Registration date :

2012-05-10



---
Permissions in this forum:
You
cannot
reply to topics in this forum