It has a definite rolled rim ...... I should be able to find that glaze in the Patterns book when I have time to waste.  It has that Clover glaze background.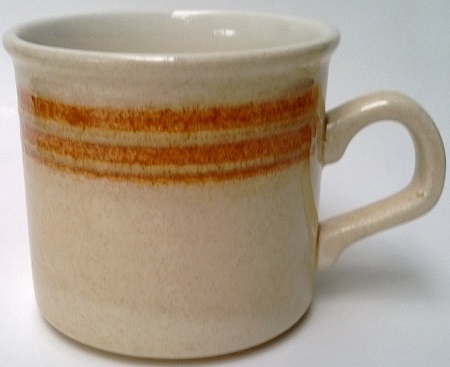 Made in New Zealand on the base -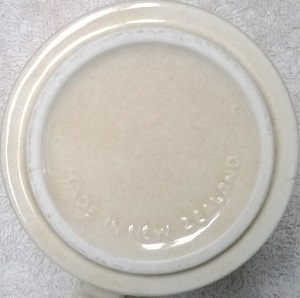 Last edited by Ev on Mon 23 Jul - 8:29; edited 1 time in total
Cripes that's an odd one...

Maryr




Number of posts

: 1835


Location

: Whangarei


Registration date :

2011-11-17



Cripes from me too, as the first pattern in the Patterns Book is this one!
Unfortunately I have to work out which colour this is glazed in and it's background is Clover Yay!
Is it Tan?  Or Chestnut?  Or Brown?  Or Honey?  
I know it's not Black, or Blue or Yellow or Green which this pattern has as variations of colours.
The interesting thing is that it has all of the Rimmed shaped numbers for saucer, side plate, bowl etc etc.
But the matching cups are 3038 which we know is the can shape with the squashed handle AND it also had 3046 cups!  Is this a 3046?  I will have to check out all of the Patterns book to see if there are any other patterns that have this cup number.

I'm adding the Ring Series pattern for a short time ....

Damn it I call those bands of colour ORANGE ..... what do you call them ?
Last edited by Ev on Tue 26 Nov - 12:23; edited 1 time in total
I would think either chestnut or honey?

mumof1

Admin




Number of posts

: 2214


Location

: Mapua, Nelson


Registration date :

2011-03-21



Just found that Honey is on Herald, so maybe it's chestnut..... will keep looking
Saw a set of 6 of these in an op shop today. There was a base glaze similar to Sundowner with a contrasting gold colour over the rim and down a bit. How odd that I had never come across this shape and now they are coming out of the woodwork!
I think I saw a set on tm as well but didn't save.
I'll link if they pop up again.

Jeremy Ashford




Number of posts

: 3150


Location

: Whangarei, New Zealand


Registration date :

2010-09-11



This cup perfectly matches the last Symphony that I got, even the bands match .... though in the photo it looks like the bands are a honey colour ....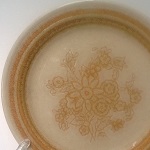 Janice thought that the handle on this oddity is the same as the 3019 shape 25 cup and she is right.  Although the shape 25 handle is straight at the top and this one is on an angle.  So this should help with identification!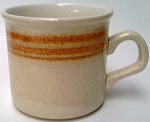 Ev.. this is great, I can feel we are on the verge of piecing it up LOL...
I have a list of patterns using the 3046 cup from the patterns book, that's the shape that's been niggling away in the background. It says its matched up with a 4042 saucer, (so it is a coffee can base)
The three pattern are Thames Brown, Petite No. 156 and Day dream. On Day dream its written 3046 - Rim cup.
The description for a shape 3046 cup is "short straight rimmed cup"

JanPots




Number of posts

: 1896


Registration date :

2012-05-10



Took another pic for a better comparison
---
Permissions in this forum:
You
cannot
reply to topics in this forum