I picked this one up today because it caught my eye as it matches my Campbell Hegen jug (took a pic of the two together as well). Initials look to be PW? I can't find it on any potters mark sites, does anyone recognise it?

ambrosia




Number of posts

: 64


Registration date :

2013-12-12



Yes yes yes, I know that mark! I believe it is one of Paul Wotherspoon's -SOmeone please correct me if I'm remembering wrong, but there was quite a saga involving near identical Paul WOtherspoon sunburst dishes listed on Trade ME, one with his usual mark (as in our gallery) and one with this one, which had been credited to Gwyn Williams.

That is an uncanny match with the Campbell Hegan!

Cat-a-lat




Number of posts

: 1039


Location

: Palmerston North


Registration date :

2012-02-15



oh thank you! Uncanny is right, my eyes went to it immediately since I'm always looking at the jug, they look great together.

ambrosia




Number of posts

: 64


Registration date :

2013-12-12



Thanks ambrosia as it's great to have this mark.  Lovely pair there!
Thanks also to Cat who is such a great Studio Pottery marks sleuth  
Actually Paul Wotherspoon is a member of the site ..... great stuff !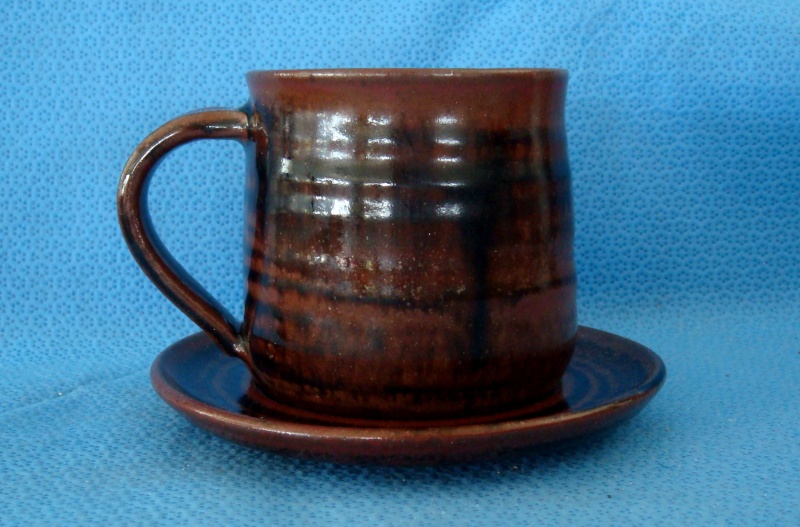 I have this listed atm, but not sure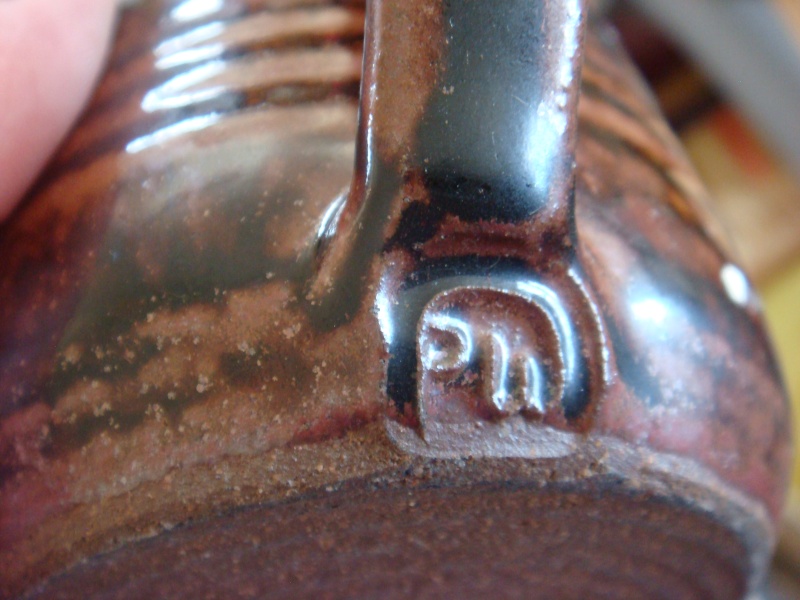 The impressed mark looks similat to ambrosias mark to me, just stamped not drawn, so not so rounded


mumof1

Admin




Number of posts

: 2336


Location

: Mapua, Nelson


Registration date :

2011-03-21



Unfortunately I have just this morning deleted from the ipad photos I dragged from the forum when I first saw this listing and went thru and checked out all the PWs I could find. There was one very very similar to this which I believe was on a beaker-type shape, with a similar brown glaze. The mark was almost identical, with perhaps just slightly more curve as the connecting line rose from the top of the P on its way to the W.
Unfortunate timing there I'm sorry but I'm pretty sure it is somewhere on the forum. As I am still encountering many of the potters' names for the first time I do tend to forget them pretty quickly. It should be either in the named or mystery potters' marks.
I'll have a look now.
Here's the mark :
https://www.newzealandpottery.net/gallery/New-Zealand-Potters-Marks/NZ-Potters-Mystery-Marks/pw-pic_8335.htm
And here's the piece:
https://www.newzealandpottery.net/t5943-catching-up-with-photos-of-unknown-marks-pots#23090
Cat-a-lat wrote:pot with P W mark

Jeremy Ashford




Number of posts

: 3193


Location

: Whangarei, New Zealand


Registration date :

2010-09-11



I asked Paul about this post back in March 2016, (on an obviously old e-mail address), but today, I received a reply:
"I found this discussion while going through a long unused email address. Interesting observations, but I can assure you that the impressed PW on the brown beaker is definitely NOT mine, though it has some similarity to my incised mark that I used from 1987 until I closed up shop in 2005. Prior to that, beginning in 1973, I used an impressed mark but nothing like the one you ask about or my later one. Sorry I cannot help you as to whose it may be. But three years down the track this is probably a redundant conversation."
Thank you Paul for your reply.

mumof1

Admin




Number of posts

: 2336


Location

: Mapua, Nelson


Registration date :

2011-03-21



re PW mark - I understand that potters change their marks over time. Might this one be a version of Gwyn Williams ? (see the Potters' Marks book)

miranda g




Number of posts

: 6


Registration date :

2017-07-11



When we filled out the forms for the Society of New Zealand Potters for the Marks book we were asked to add all of our marks. Mine for example ...
https://ceramicsnz.org/PottersMarks/PottersMark_Image.cfm?potterID=617
It has taken me this long to work out that his mark belongs to Paul Wotherspoon and NOT Gwyn Williams.  Sorry everyone.  I will correct the Gallery mark
It would be a lot easier for me if members didn't remove their photos ......
---
Permissions in this forum:
You
cannot
reply to topics in this forum