When I started my CL castware four-digit project I thought maybe I should also have representative mug examples from other commercial potters from around the same time, then, as I found the direction of my collection homing in on coffee mugs, I started on Titian mugs, then early Crown Lynn mug shapes.
As it was the studio potters that were giving the commercial potteries models and ideas for their wares I thought I really should have some examples of studio pottery mugs too.
These three mugs, all about 90mm high are my starting point.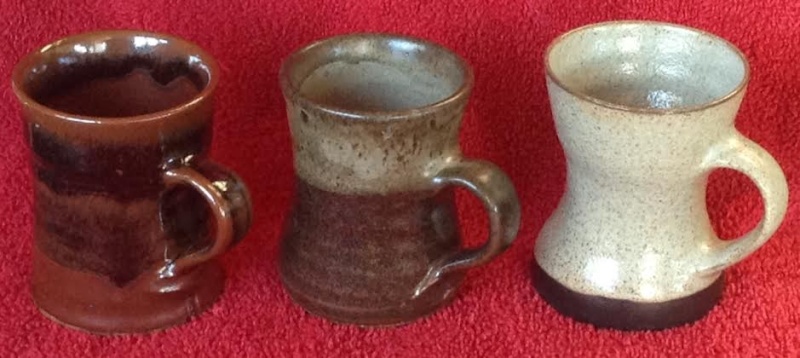 ___Peter Stichbury_______Mirek Smisek________Simon Engelhard______
When I get the opportunity I will visit my friend Simon Lee-Johnson and photograph some of the stunning pieces given to his father Eric Lee-Johnson (or traded for paintings or drawing) by the potters. He has a set of black Barry Brickell mugs which could be the model for the shape of Mark Cleverley's tall coffee set mugs, but closer in size to the three above.
---------
5/7/14
Well I thought the Brickell were black but it must have been the light as they look like Tenmoku now: 
https://www.newzealandpottery.net/t5286-barry-brickell-mugs-and-coffee-pot#19788
Simon and his wife Karen both loved my Engelhard mug. It looked weirdly unbalanced in the auction pic but it looks great up close.
--------
3/9/14
Recently added an Ian Firth and a Barry Brickell. Photos later.
--------
Have added Bill Schiessel, Mike Truebridge, and others I have yet to identify.
Last edited by Jeremy Ashford on Tue 5 May - 14:35; edited 2 times in total (Reason for editing : Change title so I can find this, additions)

Jeremy Ashford




Number of posts

: 3193


Location

: Whangarei, New Zealand


Registration date :

2010-09-11



Some catch-up pics.
Barry Brickell and Mike Truebridge.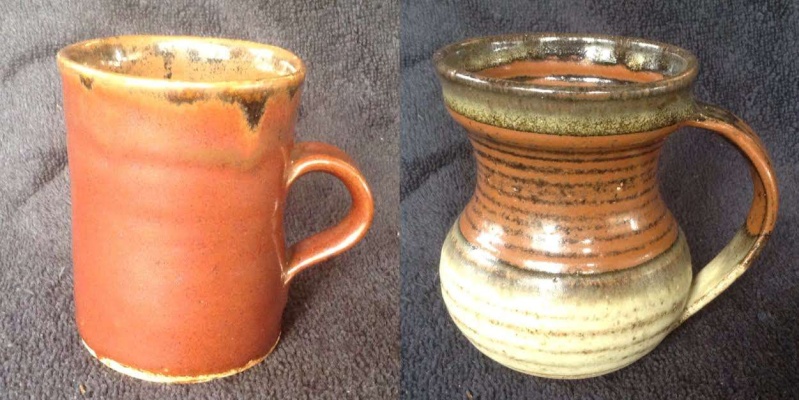 BB 91mm H, MT 96mm H
The mark on the Brickell does not photo well and the Truebridge is so obviously his work.
Ian Firth x 2.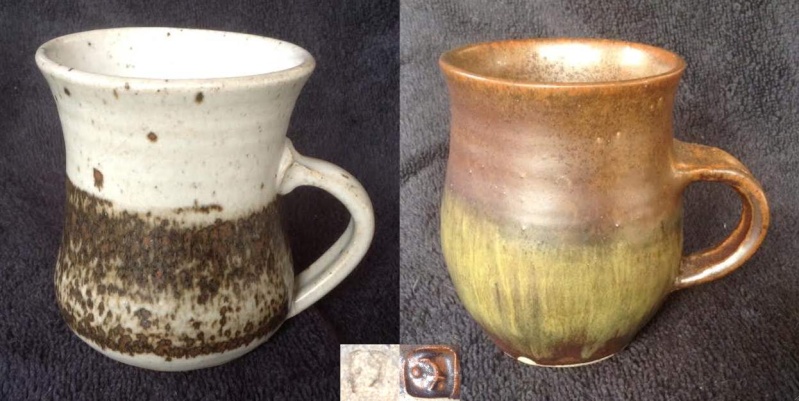 94mm H, 93mm H
---------------------
I was checking through my handpotteds last night and thought I should check out this mark that looked like an A and either a G or C. Found it:
Adrian Cotter.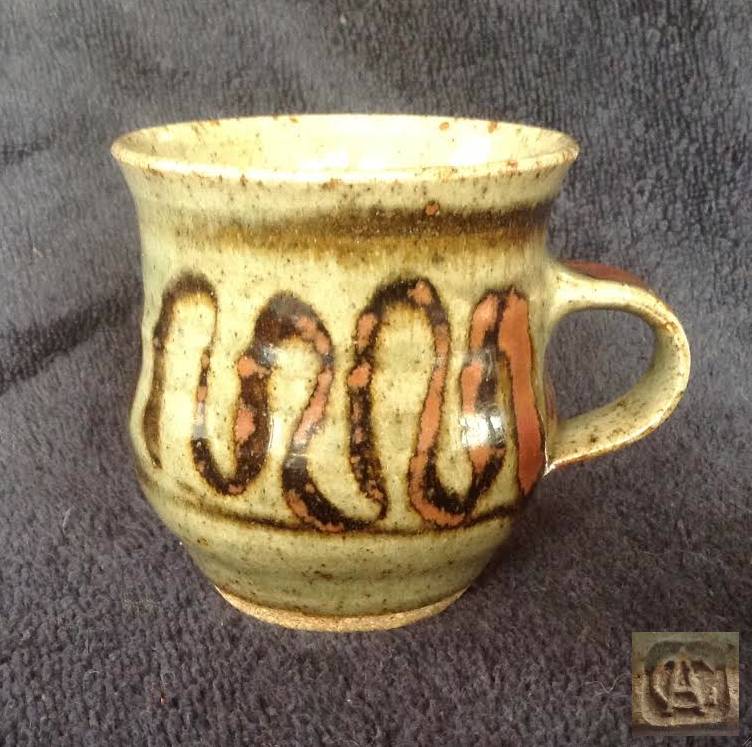 83mm H, clear mark AC overlapped
Can anyone tell me when this might date from?
Tribute to Adrian Cotter, ASP News January 2007, page 4:
http://www.ceramics.co.nz/Newsletter/newsletters/ASPnewsJanuary2007.pdf
---------
11/5/15
Here's my handpotted mugs so far (well those that will fit in a tidy montage).
I am expecting one by Don Thornley to arrive shortly too. When that gets here I can make a new 6 x 6 montage including also an unmarked mug, a Beach cup/mug, and CL coronation loving cup (#340).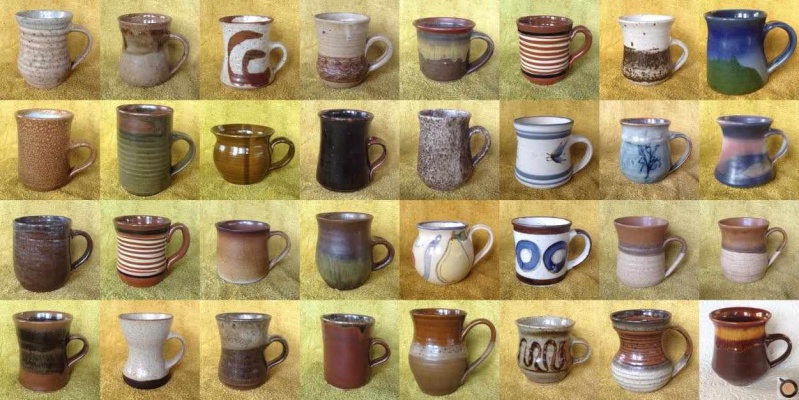 --------
3/1/17
My photo file for handpotted mugs now has nearly 700 images, at least 600 of which will be unique photos of mugs currently in my collection, or which I have given away.
Here are a couple more by ADRIAN COTTER that I put away and forgot about. There is slight damage that wasn't described in the trademe listing and the seller refunded including post.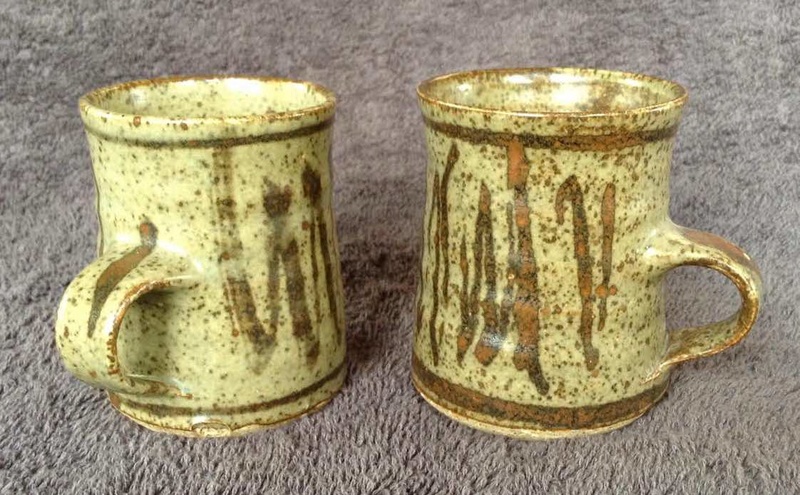 Adrian Cotter, marked
.

Jeremy Ashford




Number of posts

: 3193


Location

: Whangarei, New Zealand


Registration date :

2010-09-11



---
Permissions in this forum:
You
cannot
reply to topics in this forum