Tangaroa bottle
Small Tangaroa bottle for liqueur or suchlike. (There were larger ones.)
I saw some of these on ooga mooga and they were considered to be Rarotongan, but to the best of my knowledge they wouldn't have had the facilities to make them there (even though that's where they were sold).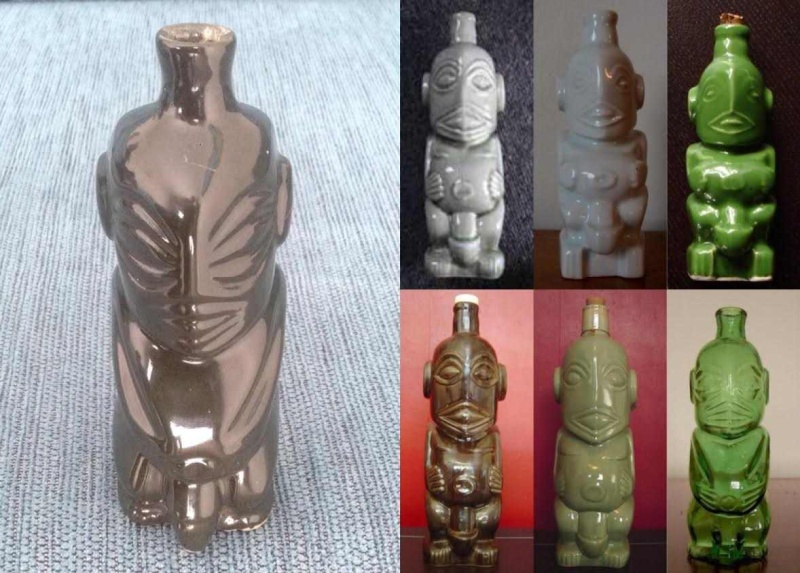 mine on left, dark green, 137mm H x 47 across base, flat bottom
internet grabs on right
These were made for many years and I suspect that like the Ti-Toki bottles they would have had different manufacturers over time.
Presumably some will have been made in NZ.
Last edited by Jeremy Ashford on Sun 8 Nov - 13:20; edited 1 time in total

Jeremy Ashford




Number of posts

: 3193


Location

: Whangarei, New Zealand


Registration date :

2010-09-11



I picked up another Tangaroa bottle on last week's visit to Dargaville.
This one is smaller than my other.
It is so small that it appears to be single serving and I suspect it may have been an airlines giveaway (Polynesian Airlines?) like the little Air New Zealand buildings.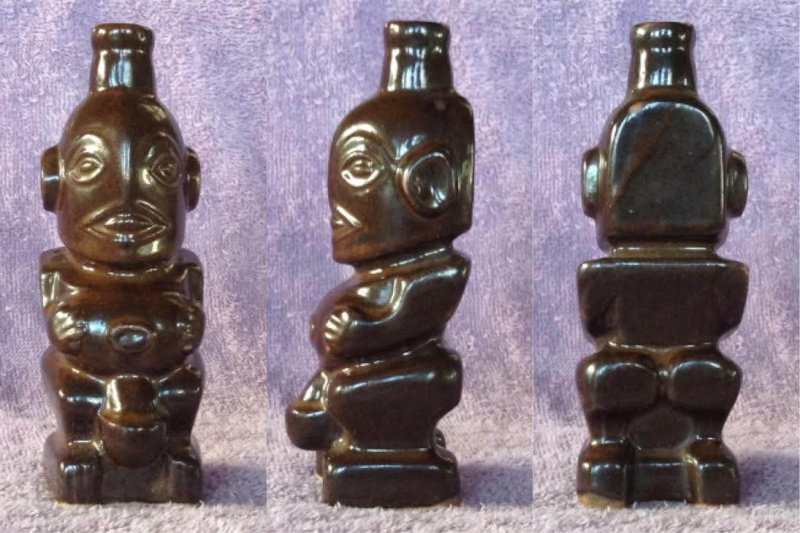 117mm H x 40 across base
This one also has a footring and a set of numbers "1365" which may help in identifying the pottery involved.
This looks identical to one currently listed on tm by barcookie:
http://www.trademe.co.nz/Browse/Listing.aspx?id=977920547
barcookie's one is numbered 1133 or 1135.
Mine was a lot cheaper at $10 (which I really had to think about before paying) but it does lack the tag that I see on the tm one.
The miniature bottle library tells me that the dark brown tangaroa bottle dates from the 1980s: http://www.minibottlelibrary.com/mbl/alpha/tangaroa/
That time period would fit for Crown Lynn, Orzel, and possibly for Parker.
David Stanley's South Pacific Handbook informs us that Tangaroa coconut coffee liqueur was sold in 500ml bottles for $NZ40 and 100ml for $20. I have also seen images showing Tangaroa bottles tagged "Kona Kona" island mango liqueur from Blue Moon Distilleries.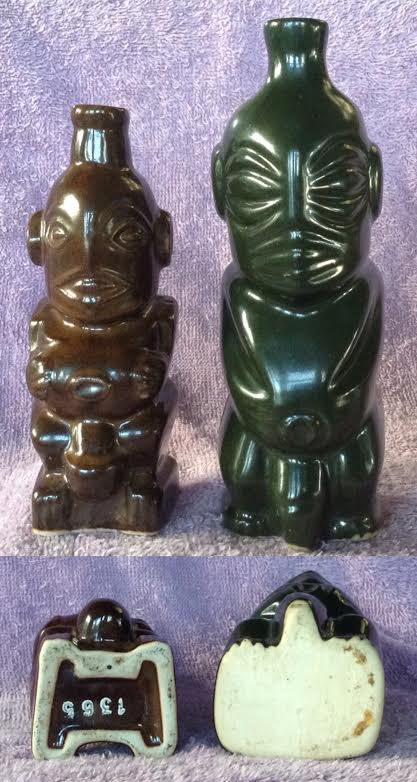 My two bottles are 50ml and 100ml.
ooga mooga attributes the 100ml "5.5" shape to cheekytiki but I can find no reference to it on the cheekytiki.com site. If it was from cheekytiki it would be no more than ten years old.

Jeremy Ashford




Number of posts

: 3193


Location

: Whangarei, New Zealand


Registration date :

2010-09-11



I contacted Gecko from Hawaii about my bottle and he doesn't know who made them, but he has seen them.  He suggested I search on the Tiki Central site which I did and found this topic :
http://www.tikiroom.com/tikicentral/bb/viewtopic.php?topic=23578&forum=5

Mine is the same as the big blue one and the head comes off to get to the contents.
---
Permissions in this forum:
You
cannot
reply to topics in this forum