Hi Ev I am pleased to see that the Prestons  liqueur bottle now has a number! I sent this pic to Mills Reef winery a while ago and they confirmed that they were from Crown Lynn but I didn't get around to putting them on the site.  I have a couple of these - one with the kiwifruit pattern and the Prestons label, and another plain.  They are well made and rather lovely. Unmarked on the base. The other side has a lovely grape leaf motif.  I don't have access to these bottles at present but from memory they're about 15-18 cm end to end.
There is also an older and less attractive Prestons jar, but the winery was uncertain as to whether CL made them or not. I have seen an unmarked brown one recently on TMe being advertised as a hot water bottle... come to think of it, the brown glaze looked rather similar to the old Toby jug brown, so I will persevere in my investigations. Again, this is about 15-18 cm end to end.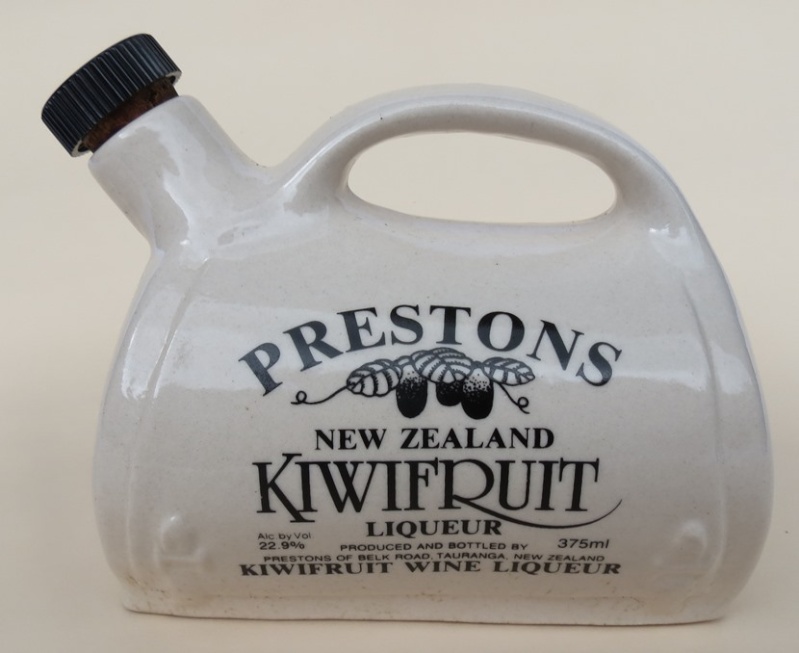 Maryr




Number of posts

: 1928


Location

: Whangarei


Registration date :

2011-11-17



Absolutely brilliant thanks Val !!
I have seen these listed on Trademe, but with no certainty of the maker.
Thanks to the Portage Ceramics Trust for identifying this piece !
I haven't seen the other model before, but hopefully something will turn up regarding it's history.
barcookie on trademe originally posted this Lincoln Wines bottle as Parker Potteries, but it is not marked as such.  The rationale may have been that Parker made the Maori design (Wharetana) bottle for Lincoln. The advertisement has now been rewritten with the bottle as possibly by Crown Lynn.
Note that it is the same shape as the second Prestons bottle in the montage below.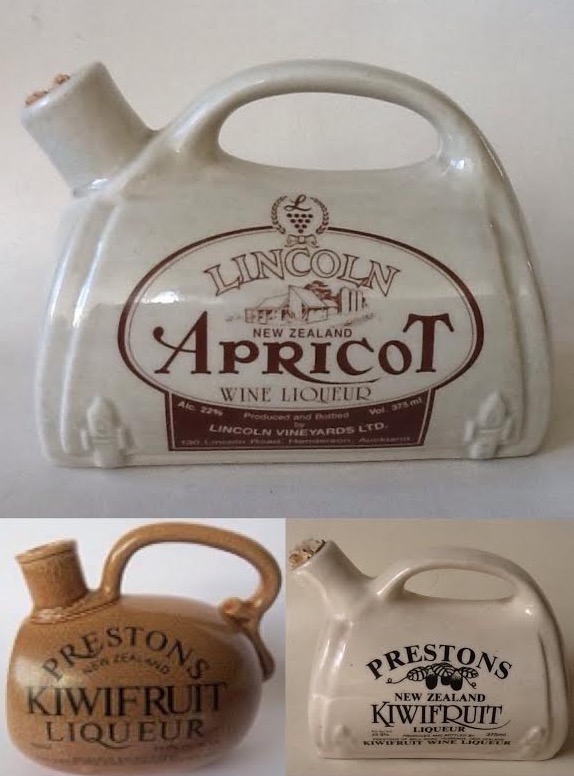 Lincoln Wines Apricot Wine Liqueur bottle
two Prestons Kiwifruit Liqueur bottles
new photos (1 and 3) by barcookie
old photo (2) by maryr
Thank you barcookie.
See the listing at:
http://www.trademe.co.nz/Browse/Listing.aspx?id=993325676

Jeremy Ashford




Number of posts

: 3193


Location

: Whangarei, New Zealand


Registration date :

2010-09-11



A Production meeting record from 1979 has turned up a Preston Kiwi Fruit bottle record.
I can't tell if it's the one in the shape of the kiwifriut or the other shapes.
Also a Stocktake record from 1989 shows two different Kiwifruit Liqueur Bottles:
Pattern Shape No
87755 1457 Kiwifruit Liqueur Bottle
87756 1457 Kiwifruit Liqueur Bottle Special.
I found this Prestons Kiwifruit Mug on Te Toi Uku, which tells me that these must be Crown Lynn
https://www.nzmuseums.co.nz/collections/3384/objects/488602/mug-prestons-kiwifruit-liqueur
plus a bottle like Val's one, but they don't name the maker and say maker unknown:
https://www.nzmuseums.co.nz/collections/3384/objects/490067/liqueur-bottle-prestons-new-zealand
To finish..... we have 3 different Kiwifruit Liqueur bottles and two records.
The production record for 1457 shows that many hundreds were made in 1985.
Still no better off, but a lot more info has come to light. My personal opinion is that all three bottles were made by Crown Lynn.
Thanks to Donna for asking the question and getting me into gear
Maryr and Truffles like this post
---
Permissions in this forum:
You
cannot
reply to topics in this forum