This is the most wonderful rich brown glaze to touch as it feels silky ...... !!
I'm trying to think of the pattern that it belongs to, but I need help please.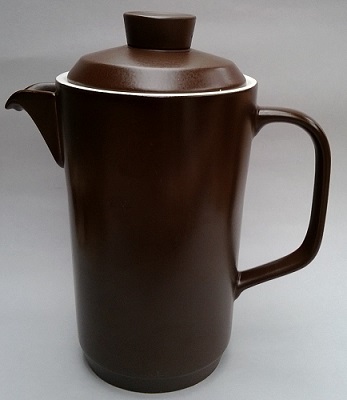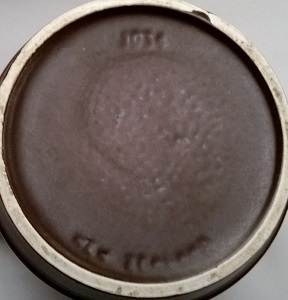 reminds me a bit of the brown that goes with the echo pattern , but of course echo doesn't have white with it, so sorry, no help here

Cat-a-lat




Number of posts

: 1039


Location

: Palmerston North


Registration date :

2012-02-15



I can't think of any other Matt brown, either.
Interesting.... Its that yummy chocolate colour too... Makes me want to want chocolate now  
D. Thorpe type glazes are similar matt glaze.. but none that I know are that colour.
I have seen D. Thorpe patterns, using 3019 shape cups.
Brown glaze are the Echo and Time-Out of which don't fully match up.( inside & Out)

JanPots




Number of posts

: 2074


Registration date :

2012-05-10



Ev,
The shape 25 wares were selling at the 246 Crown Lynn shop alongside the Luke Adams wares and the Chateau Range so a matt brown glaze is to be expected among the Basalts and Lucows and the Titian equivalents. This shape was made in Auckland, so that rules out Luke Adams Basalt for a start. Both Basalt and its Titian counterpart had variants with no black or minimal black where, like this, the surface of the piece is very smooth.
I'm really commenting to give you the opportunity to rule it out. The matt finish fits what I have in "plain brown" but although it is in the ball park the colour as I see it here doesn't really correspond with anything I have as this appears darker.
Even so the colour may be an indication of date for this piece.
Later ...
... by way of illustrating what I wrote above:
The Basalt glaze on these Luke Adams 1043s is matt brown with just a hint of black.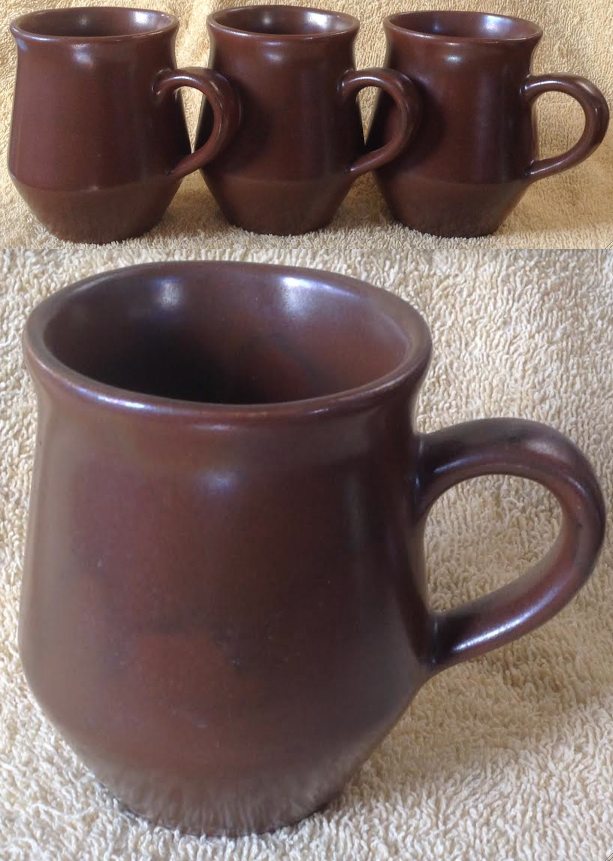 Also, the expo70 cup, in a glaze very like Lucow, was also shape 25, but presumably not vitrified like the other pieces from the Chateau Range.
Last edited by Jeremy Ashford on Sun 14 Jun - 19:21; edited 1 time in total

Jeremy Ashford




Number of posts

: 3193


Location

: Whangarei, New Zealand


Registration date :

2010-09-11



Yes, and a coffee pot will have matching cups and saucers and sugar and milk, but I don't have any that match this one. There is a Palm Springs 1034 on the Portage Museum site and this has the same matt glaze but it's in the bronze Palm Springs colour. This would have been made around that time surely, along with all the other Shape 25 patterns. For sure something will turn up now that we are all looking out for it
I've got a 1034 with the same matt glaze as Pine which tends to support, well I'm not sure what, but does give an indication of when it was made

TonyK




Number of posts

: 652


Location

: Sydney Australia


Registration date :

2008-08-28



I'm really convinced that this is part of the Hacienda set as the 3012 cups look the same in an advert that I saw today !!!  What are your thoughts?

Hang on a tick as it looks like Seagrass has the same rich brown matt cups .... ulp!
I have Hacienda saucers with a shiney brown glaze 3012 cup, not sure about seagrass.
Edits to remove pic

Its not Rusticana by any chance? Maybe they brought out a set of of plain colour, of that glaze?
Although when Rusticana is used on a 3038 cup, they had the glaze on the inside too, so unsure whether it could be that?

I have pattern no.  692 Rusticana in the decoration book from the musuem

JanPots




Number of posts

: 2074


Registration date :

2012-05-10



Hacienda - Edits to remove pic which shows a rich brown glazed cup possibly matt.


Sea Grass - Edits to remove pic which shows a rich brown matt glazed cup


I guess we need more info ....
Last edited by Ev on Wed 17 Jun - 19:08; edited 1 time in total
ahh I see why you think that now ! umm they do look matt finish rather than glossy

JanPots




Number of posts

: 2074


Registration date :

2012-05-10



Has anyone ever seen a shape 25 Cup with the same brown Matt glaze as this coffee pot. I don't recall one but that's not to say they aren't out there.

Maryr




Number of posts

: 1967


Location

: Whangarei


Registration date :

2011-11-17



---
Permissions in this forum:
You
cannot
reply to topics in this forum