Three lovely bright examples, one has the Harwyn Pottery sticker on it - must have been decorated by them.
From the collection of Manos, he believes these to be Glen Afton.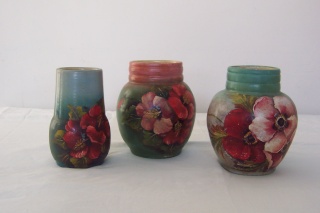 HeatherT




Number of posts

: 876


Location

: Whangarei, New Zealand


Interests:

: Crown Lynn animals, swans and vases


Registration date :

2008-08-28



Two Glen Afton pieces courtesy of haselnuss.
Now I am wondering if these pieces have been decorated by Salisbury or Harwyn?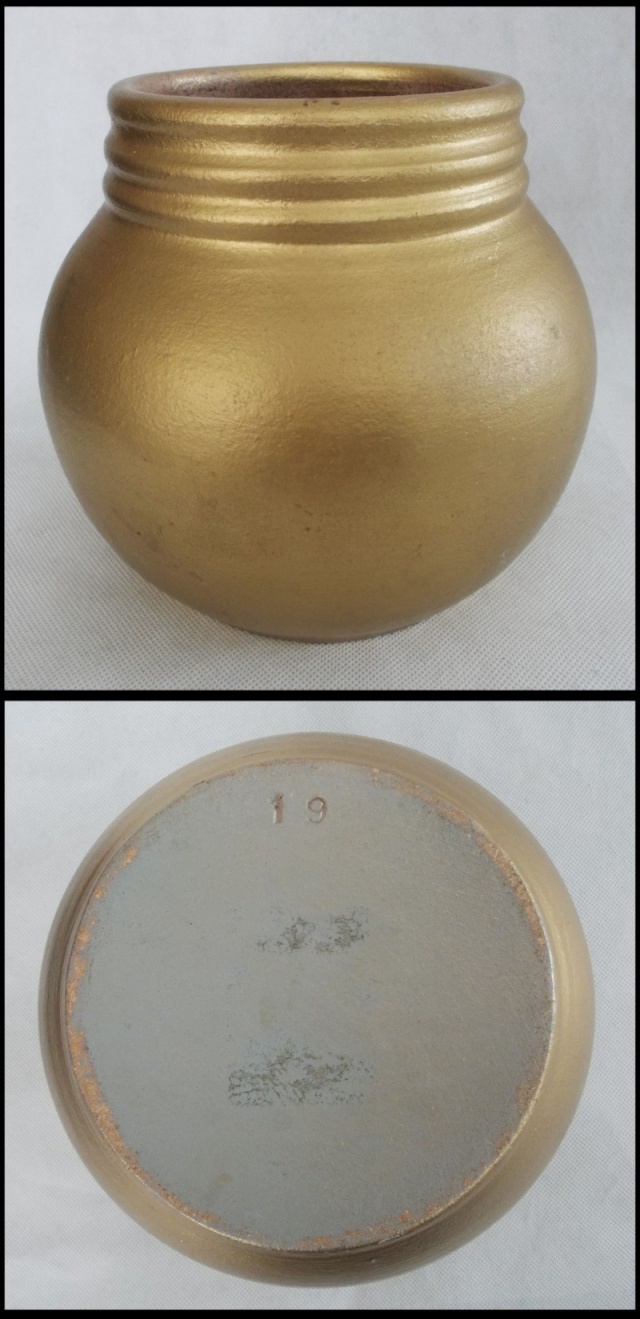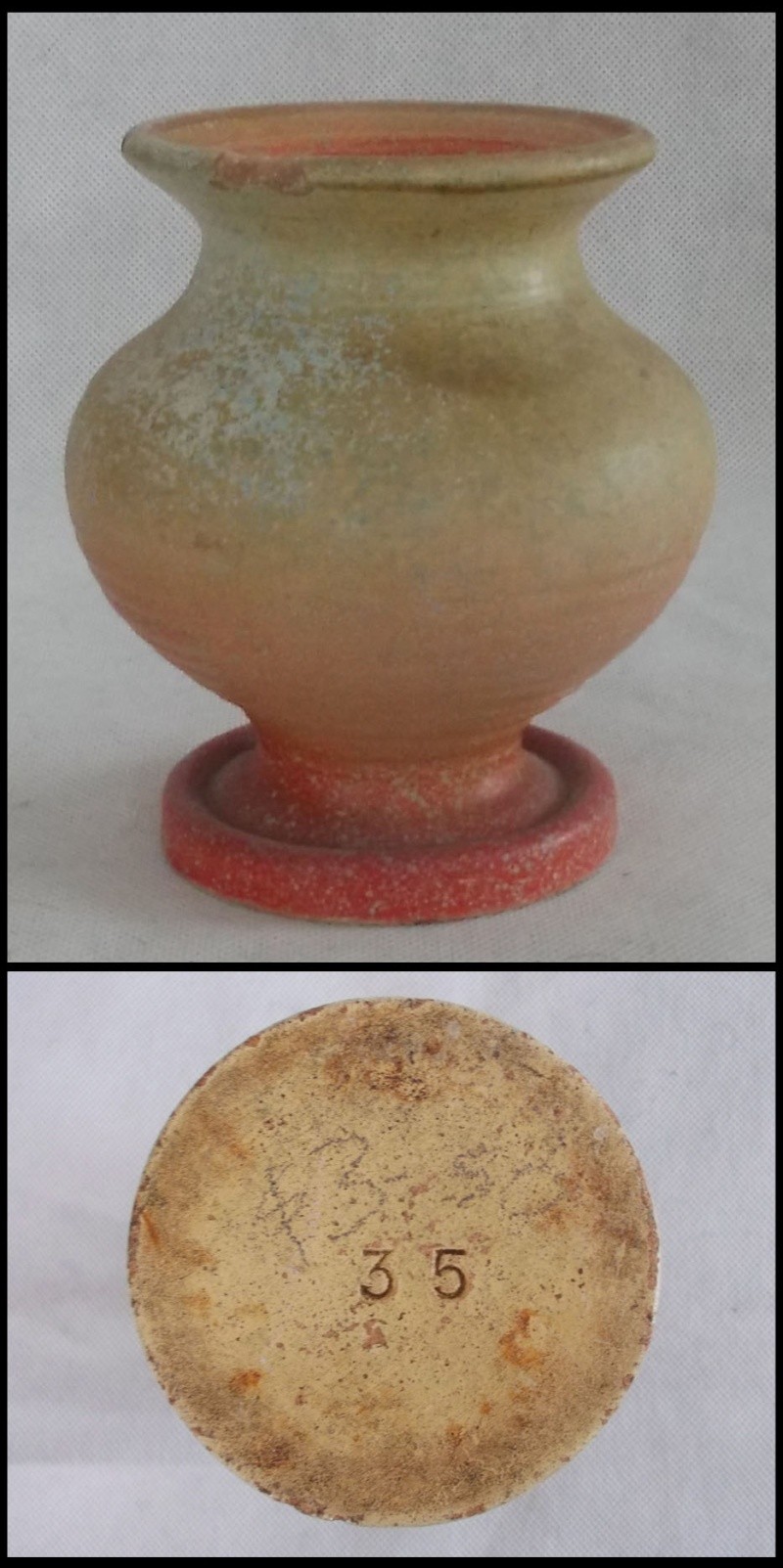 I still don't know who made these blanks and who decorated them .... *sigh*
Eve,
Here is another opinion written by a registered valuer for NZ Pottery
as shown below.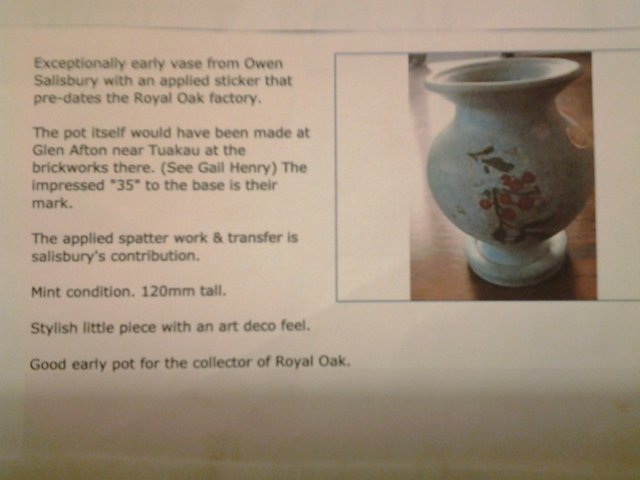 oakpot




Number of posts

: 103


Registration date :

2016-03-20



Thanks for that oakpot, there is however quite a distance between Tuakau and Huntly where Glen Afton was situated, which a registered expert on NZ Pottery should be aware of. Perhaps a lapse of memory or the idea that these places were close to each other. At 50km apart it does make me wonder though. It is easy to see that the vase was decorated by Salisburys. Gail Henry has a list of numbers that Glen Afton made on page 124 but it doesn't include the number 35 unfortunately. It was great to see the 66 shape on there though as that is the Glen Afton Shell vase.

I do like the idea that sid pointed out that Glen Afton cast their ware and Rancich/Silva made theirs by hand as the important way of working out who made what when they both used the same number stamps.

You must be very familiar with cast ware and should be able to tell if something was slipcast or hand thrown as there are determining factors like the join that needs to be fettled on something slipcast for example.

I've been throwing pots for many years now and should be able to tell the difference, however I don't have any to check out. But wait I do have a Flambeau pot that is said to have been made by Wally Silva. Looking at it right now it appears to have been slipcast due to the angle on the inside base. The outside base has been painted brown and there is no sign of a number. It is slightly thicker nearer the base which could be a sign of it being thrown and there is no sign of it being fettled, but I'm not sure about it at all ......

I'm sorry but I'm struggling with all of this new information.
I'm going to get into Manos's ear about this topic tomorrow night as we are both going to the Chester Nealie book launch.  I would really like to meet Lance Silva who I have seen over the years buying up Wally Silva's work.  His collection must be very significant.  Wish me luck .....
Well Manos has trouble identifying Glen Afton and Wally Silva work too.  
He is going to take some photos of some of Silva's pots for me when he gets a chance.
Lance Silva lives in Australia, but I'm trying to contact him.
These are from my collection.  I am hoping that Oakpot or others can shed some light. It appears that the first two are Silva and the third is Glen Afton?  The smaller brownish bowl is number 1, and is 6.5 cm. The blueish bowl in a similar shape is number 33, height 9 cm. The third, which is impressed very clearly number 34, is in a different style, and is 13 cm high. Both number 33 and 34 have stick-on transfers.  I have included pics of the insides of pots 1 and 33 as they have very similar swirls - I am 99.9% sure they are by the same person.  
It is clear that all three pots have stamps made with the same type of implement, but George (the fount of all bloke knowledge) says these look like commonly used metal stamps and would have been bought off the shelf.
I have also dug out my booklet by Douglas Lloyd-Jenkins on Rancich and Silva. There is a useful pic of Wally Silva with his pots after Rancich died and he set up a pottery on his own. Note the shape of all his pots. Did these pots go to Owen Salisbury for decoration?  I have also included a pic from the booklet of three pots described by Douglas L-J as Silva pots. I was so thrilled a while ago to find one had a "Flambeau" sticker. We still don't know who painted it.  So more questions than answers but there are my pics!  (Ev I think it is ok to leave the pics from the booklet on this site as I have clearly referenced them.)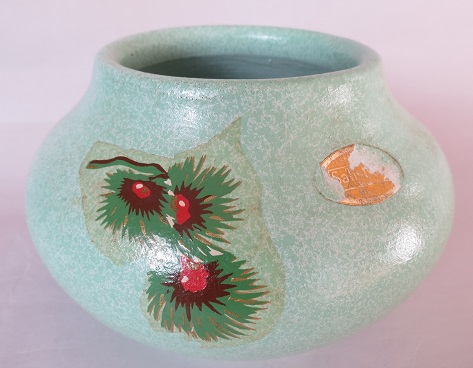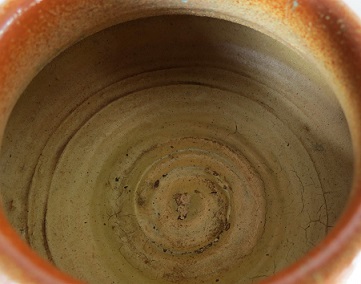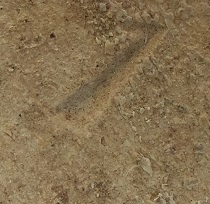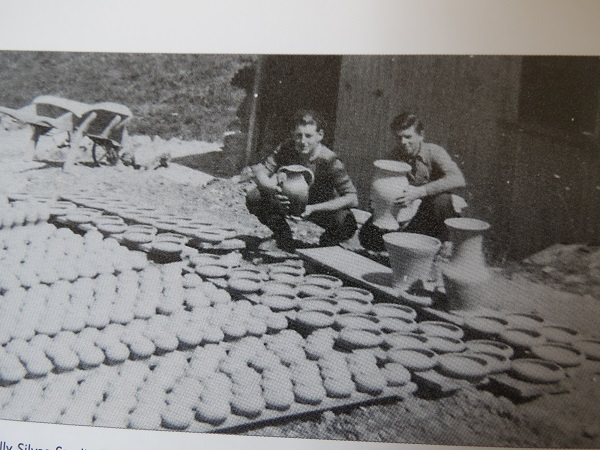 Maryr




Number of posts

: 1851


Location

: Whangarei


Registration date :

2011-11-17



I have added all three pots to the Rancich/Silva Gallery Val, to try and help sort out the shapes.  
Gail Henry has a list of Glen Afton shape numbers and descriptions in her book and it includes 34 and it is described as a comport.

I contacted the Waikato Coalfields Museum at Huntly to see if they had any Glen Afton pottery and they responded saying they had a cream coloured clay bowl and lid originally used as a butter cooler.
The Archives have some listings for Glen Afton Pottery that I will have to check out shortly.
---
Permissions in this forum:
You
cannot
reply to topics in this forum