My father found a few of these at a garage sale in Canada.  They are very similar to the Air New Zealand dishes both in design and backstamp.  But they have the word, 'HINEMOA' written across the top.  Would they have been from the inter islander ferry that operated from 1947-late 60s?  I haven't been able to find out anything about them and can't see any images that match. I'd love any info to give to him.  Thanks. (just trying to get the images to upload)

EWoods




Number of posts

: 3


Registration date :

2015-08-31



Hi Emma and welcome to the site.
New members are unable to post photos or links due to spam being a problem.
However you can send your photo to the site on newzealandpottery@gmail.com
and I will post it for you here.
Here are the photos that Emma has sent to the site.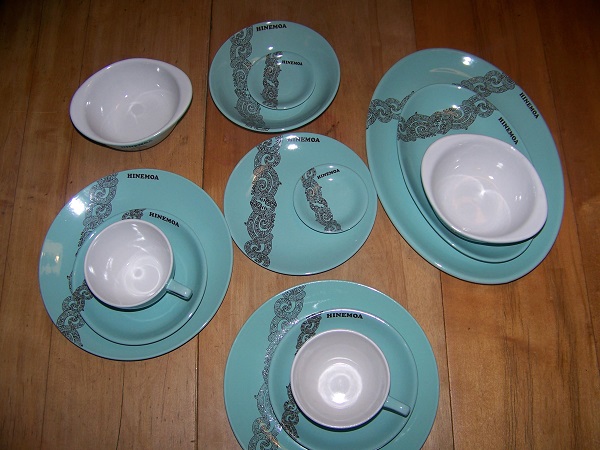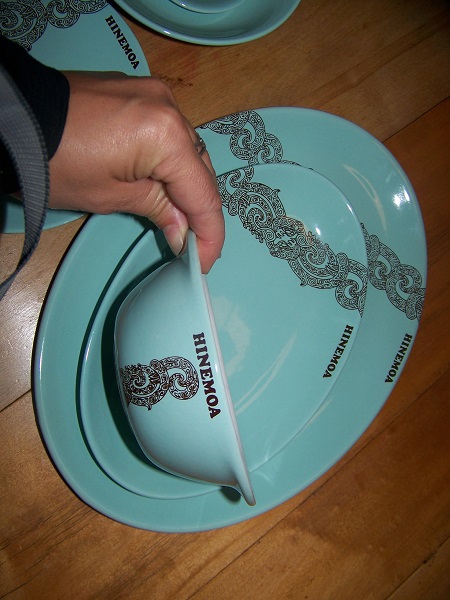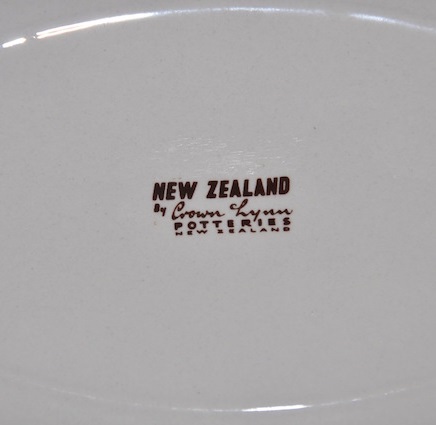 Note how the stamp is very similar to the Air New Zealand one, but it isn't the same.

Kat & Co.




Number of posts

: 2295


Location

: Whangarei


Registration date :

2012-12-03



Interesting pieces. The Inter-Island ferry TEV Hinemoa was scraped in about 1970 and this pattern dates to 1966 if I remember right? That means this could be the last pattern dinnerware used on this ferry running on the old Wellington-Lyttelton route. Its hard to imagine it would relate to any other thing or organisation called Hinemoa during the period. Strange that I haven't seen any before now though.

teaandcoffee




Number of posts

: 331


Registration date :

2012-04-22



From what I've read the tohora or whale decoration was released in 1965 for Air New Zealand. The Hinemoa was in service from 1947 until Aug 1966. In Sept 1966 it was used as a hotel ship for President Lyndon Johnson's visit - 300 press who were covering his visit stayed on the ship. I'm wondering if they would have been made for that event? Can't find any information or photos of other dishes like them.

EWoods




Number of posts

: 3


Registration date :

2015-08-31



Your scenario seems very plausible. It would account for:
1. Why the dinnerware looks to be all but unused
2. Why I have never seen it before
3. Why it was found in North America

It also makes sense that it was specially commissioned for visiting dignitaries by a government wishing to impress; and that they would use the same prestigious pattern used by the government-owned national airline. The Hinemoa, when in service, was owned by the private-sector limited liability company Union Steamship Company and would not therefore have been permitted to use the Air New Zealand pattern.

Ev should be able to find some documentation for this in the Crown Lynn files for the months leading up to September 1966.

teaandcoffee




Number of posts

: 331


Registration date :

2012-04-22



Thank you Emma for giving permission to use a photo for our Patterns Gallery of this intriguing dinnerware. I have looked through some records for this pattern, but haven't found any references to it yet. I go to the new Crown Lynn Museum on a regular basis for research purposes and will keep a look out for it there.
You're welcome. Dad was very chuffed that his find at his local thrift shop in a small town in western Canada has generated interest. Thanks for your info teaandcoffee it does sound quite plausible, especially with that additional information. I've emailed a few museum sites to see if they know anything but I'd love any other information you can find Ev. Maybe some wily Canadian journalist managed to sneak some out in their luggage and all other dishes were scrapped after the visit?

EWoods




Number of posts

: 3


Registration date :

2015-08-31



I just had an email from Emma about these plates - it occurred to me that they might be made for Owhata marae in Northland. Their wharekai is called Hinemoa. Just a thought to throw into the mix... http://www.naumaiplace.com/home/marae/view/946/

Finn McCahon-Jones




Number of posts

: 29


Registration date :

2012-11-22



Finn,
The linked form gives the location as Rotorua rather than Northland.

Jeremy Ashford




Number of posts

: 3183


Location

: Whangarei, New Zealand


Registration date :

2010-09-11



---
Permissions in this forum:
You
cannot
reply to topics in this forum