2tuis asked the question:
Hi there, Have been unable to upload a photo to the forum on this lovely piece.
Was wondering if anyone has any knowledge on it as have never seen another & can't see it in the gallery.
Ribbed inside & out with no apparent Slipcast seams
Old trickle glaze with scroll stamp
Stands 14 cm high, 7 across opening & 8cm across base about 10cm at widest point.
If anyone has information on number or maker- handpotted or slipcast - would be very interested on any feedback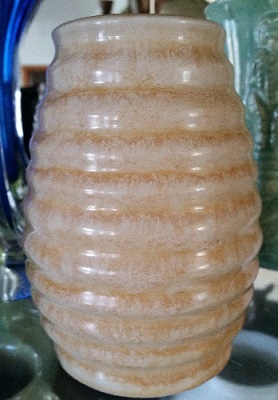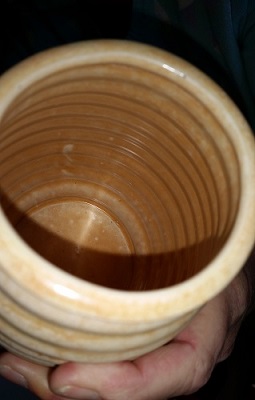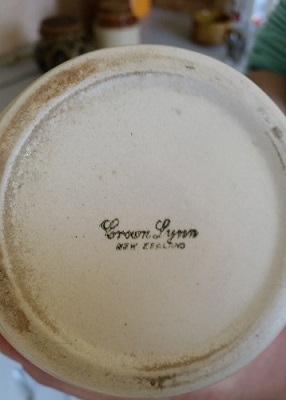 You have stumbled on what may be an obscure attempt by Crown Lynn to develop a line of slipcast vases and lamp bases in modernist forms that did not work out. The story I heard (unverified) is that the New Zealand public was resistant to these edgy shapes in the late 1940s and very few were produced. They apparently preferred the generally more conservative and familiar forms cadged off British potteries of the period, slathered in running glaze.
I don't know whether this story is true. My own feeling is that it is more likely that some moulds were made, tested and for a number of possible reasons rejected for mass production. These reasons could include faults with the mould itself, and technical issues with a particular form that made it difficult to extract from the mould without a high attrition rate etc. The real story might be a mix of all of this and more.
The result is that vases like these occasionally turn up (they are very rare), to which one cannot attribute a number. Ev - I would be very interested if you could keep your eyes peeled for possible mentions of these in the archives. It is also possible that Richard Quinn turned up shards of articles like this that we have not matched to a complete vase yet. You will need to trawl the online image bank to check.
Here is another vase from that elusive and mysterious early Crown Lynn attempt at edgy mid-century ceramic modernism (it has been said...).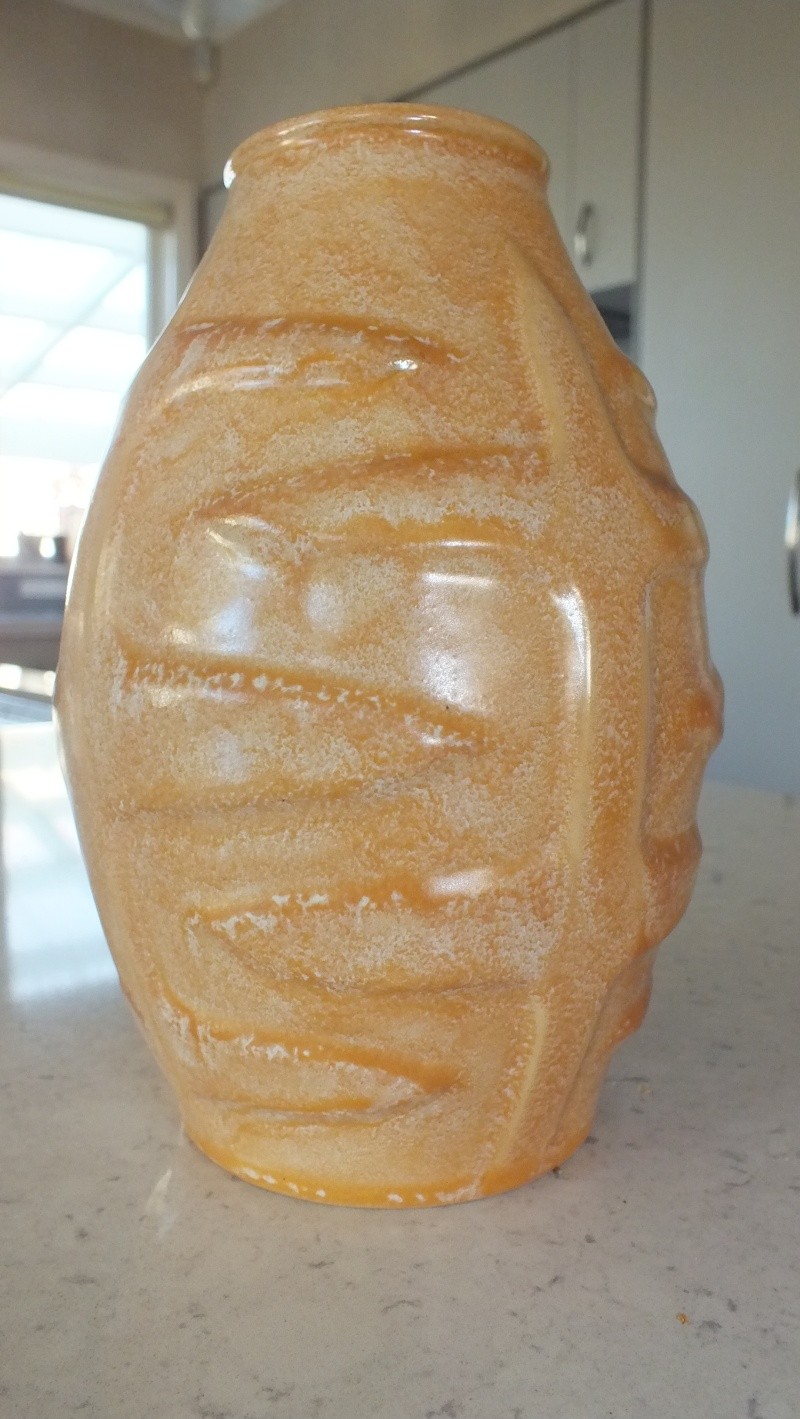 teaandcoffee




Number of posts

: 331


Registration date :

2012-04-22



I won a vase the same shape as 2tuis and the trader was Daniel Steenstra's son Dom. It was part of his late Mother's estate and he acquired it last year after she passed away. He is 90% sure that his Father made it and said that the rings and the footring were his reasons for thinking this. I will post photos when it arrives. I am asking Dom for help regarding many Daniel Steenstra mysteries and will share any important information that comes to light.
It will be interesting to see if your practiced eye can determine if it is moulded or thrown Ev. Is your one marked?

teaandcoffee




Number of posts

: 331


Registration date :

2012-04-22



Yes it has the 1955+ Crown and star backstamp.
The footring is strong and deep and true and that is why I asked Dom if it was possibly made by his Father.
http://www.trademe.co.nz/Browse/Listing.aspx?id=975350614
Not quite sure if it is the same shape Ev. Yours is more conical, and I agree, looks more hand thrown - note the straight rim and flared base. The one at the top of this thread has an inverted rim and just appears to have a more moulded looking profile to me. The edges are not quite so sharp.
Last edited by teaandcoffee on Wed 11 Nov - 12:45; edited 1 time in total

teaandcoffee




Number of posts

: 331


Registration date :

2012-04-22



You are absolutely correct T&C, but I see some similarities and I'm very happy with my purchase and most importantly the connection with Dom. Yes he has been plied with many questions already.
---
Permissions in this forum:
You
cannot
reply to topics in this forum