Casual Clay at the Quarry
Kat encouraged me to go along to "Casual Clay" at the Quarry Arts Centre on Tuesdays. On my first two visits I made four mugs, two of which have been bisque fired.
okay okay, so I'm not a potter!
Then it occurred to me to make some tokens to give to the audience of my Auckland Heritage Week walk and talk. I chose a house by one of my favourite architectural partnerships and hand fabricated a wee house, based on an old photo, that I later broke trying to straighten.
first attempt
After a long break I was back to it yesterday. After breakfast I made a cardboard reverse mould, taken from the architects' plan (which differs from the photo) which I then press-rolled into 20+ blobs of clay. The mould absorbed water from the clay so I had to rest it and dry it, and make a running repair, after ten pressings.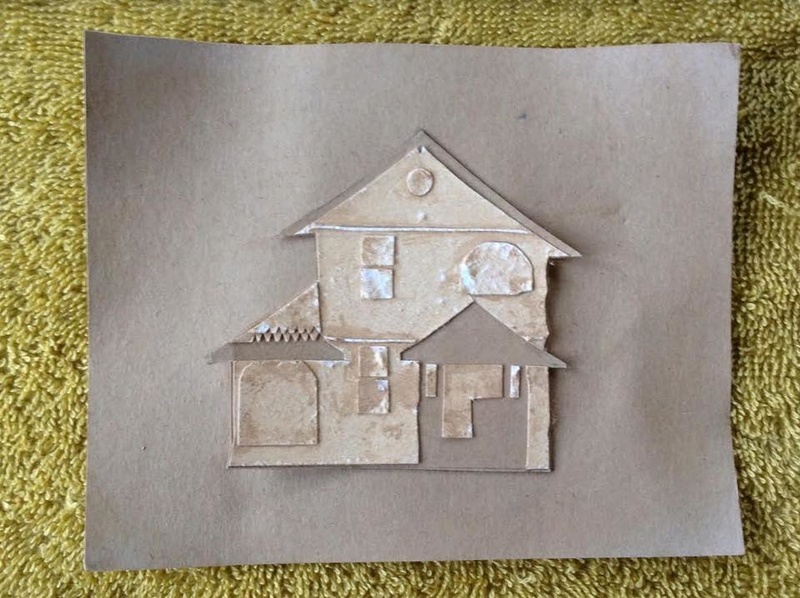 the mould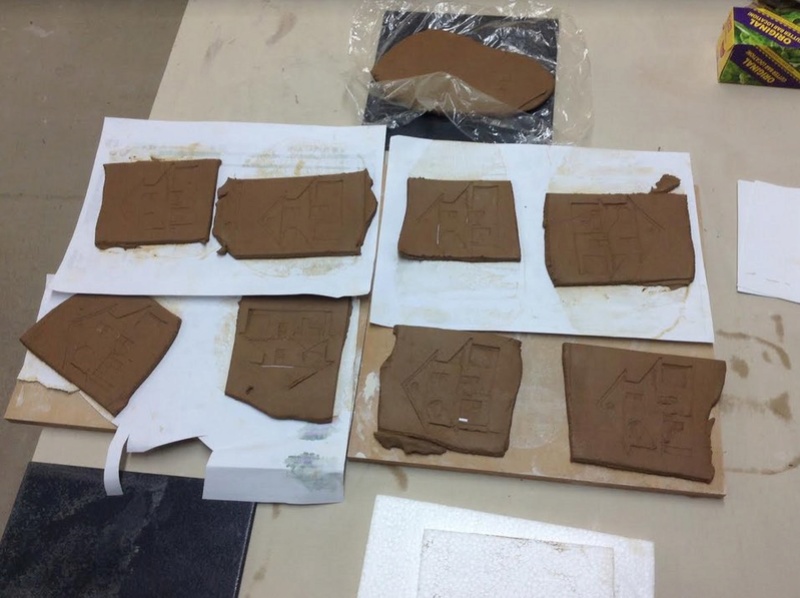 work in progress
The plan had been for the tokens to take the shape of the house but as I didn't get around to making a cookie-cutter and saw difficulties in doing it neatly I decided instead to make them tiles or coasters.
I have just cut them to approximate squares and if they dry enough they will go into the kiln next week for a bisque firing. I don't think I will glaze them.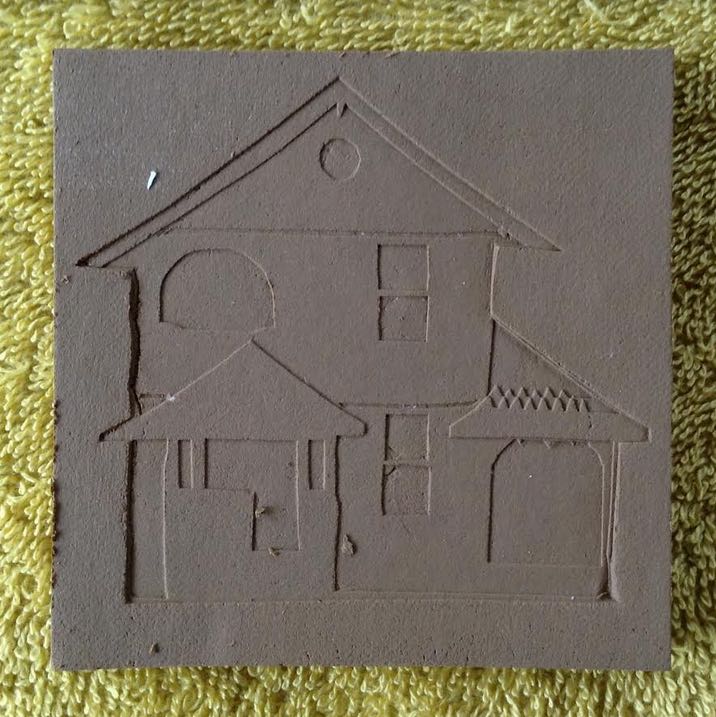 a coaster?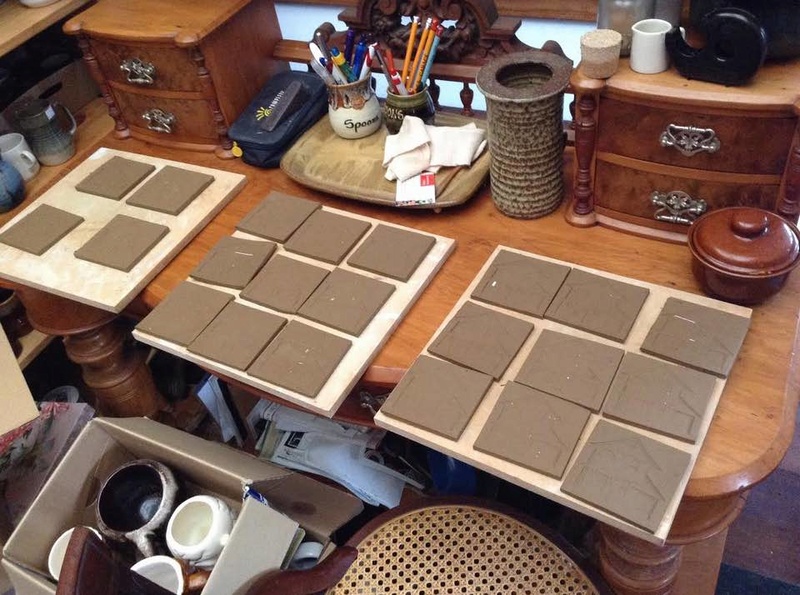 all of them
Some have already curled up and I don't expect them to necessarily be flat but then I'm giving them away not selling them so that won't be a great problem.
Your turn Kat ...
Last edited by Jeremy Ashford on Mon 12 Dec - 15:22; edited 2 times in total (Reason for editing : Title change)

Jeremy Ashford




Number of posts

: 3150


Location

: Whangarei, New Zealand


Registration date :

2010-09-11



I really like the end result Jeremy and I'm very impressed.  Bravo Well Done!!!
 I just go to talk mostly..

Kat & Co.




Number of posts

: 2274


Location

: Whangarei


Registration date :

2012-12-03



All fired. 20 survivors. I won't be glazing these.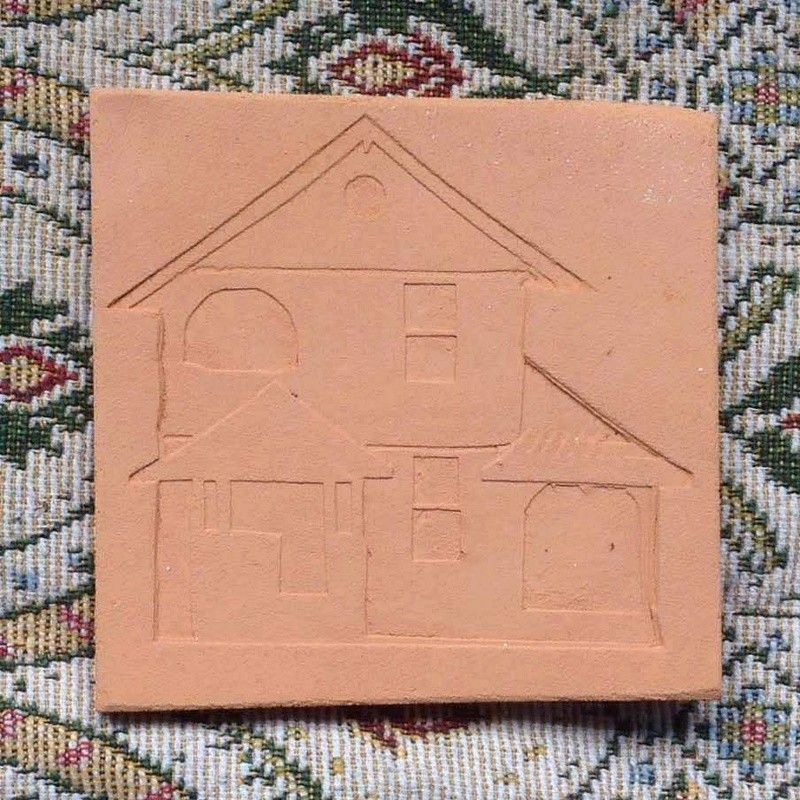 Some of the terracotta colour is lost in the photography.
Sizes (and shapes!) vary as it was not my original plan to make them into tiles.
Now I may have to get some brown paper and string to package them for my walkers.
.

Jeremy Ashford




Number of posts

: 3150


Location

: Whangarei, New Zealand


Registration date :

2010-09-11



A very successful first go Jeremy!

I hope you marked them as I can see people asking who made these in 100 years time.
Thank you, Ev.

Re marking: It's going to have to be sharpie. I have a selection of "devices" based on my initials. I think we also have some of those stickers you get made up for your envelopes.

I probably need to write a blurb to accompany them as I have depicted the house as the junior partner GS Goldsbro' drew it rather than as the senior partner RM Fripp altered it for construction. Goldsbro' eventually married the client and built another house for them five years later.

Jeremy Ashford




Number of posts

: 3150


Location

: Whangarei, New Zealand


Registration date :

2010-09-11



I had a go on the wheel a few weeks back and realised I'd need to be shown what to do.
Last week local artist Margriet Bruin gave me my first lesson. The completed (greenware) mug below was a joint effort. Everything else was recycled.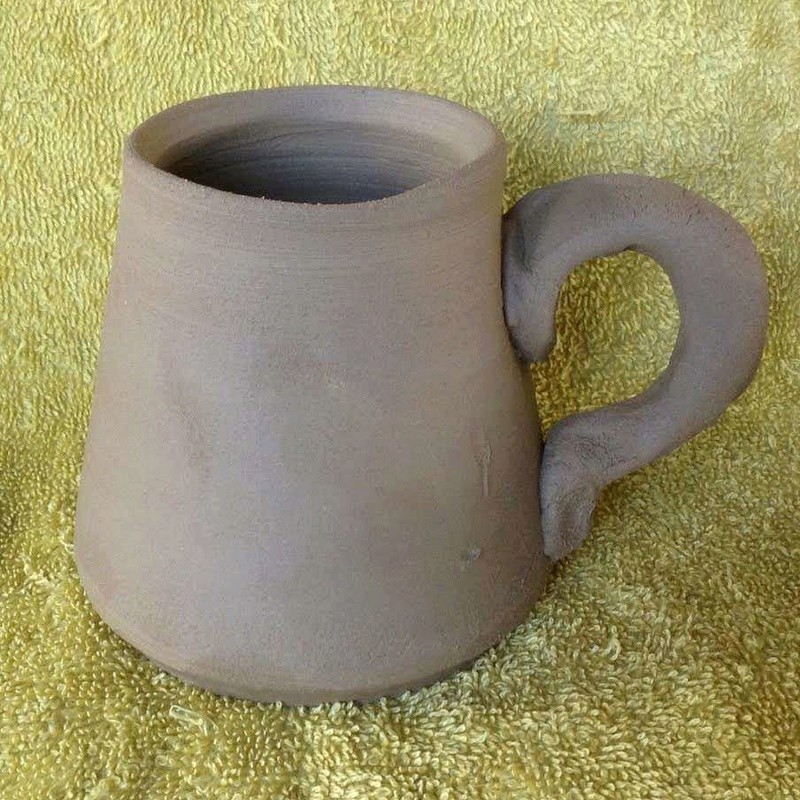 my first turned mug
Today I arrived early and had thrown a few shapes before Margriet arrived. I had taken along a printout of some interesting mug shapes to see what I could do and ended up with these six. Margriet told me that I had not given them proper bottoms, inside that is. As I finished pieces Kat was calling out what sounded like Crown Lynn shape numbers but admitted that she was just making them up. The really wonky big one actually looks as I had intended it to, apart from the finger prints (I thought they would be drier by now).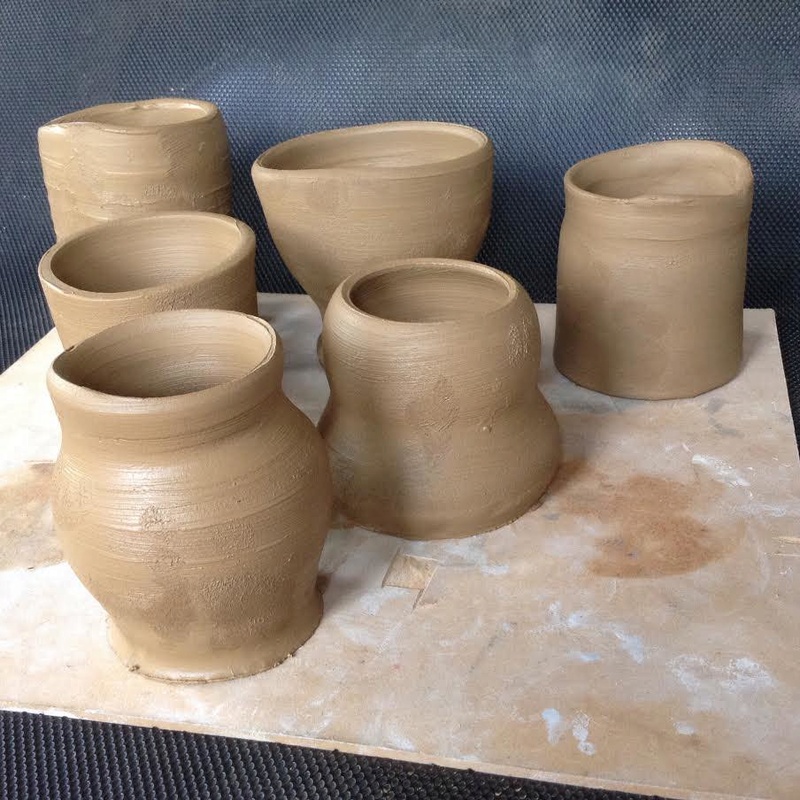 a variety of shapes
One of the other potters there, Els, said she thought I had done well for my first solo effort. Mind you, there were a few tries where I lost control and had to abort them, so I still have clay to rework for next week.
I don't know how I did it but I managed to spray clay all over the walls and ended up spending more time cleaning up than I did throwing, at least it certainly felt that way.
I realised as I was leaving that I had had no instruction in turning the bases so I've borrowed Kat's lazy-susan and will have a go when I think they can handle it. I guess I'll have to make some handles this afternoon too.
Turning obviously gives a more regular body than just squeezing a blob of clay but that can also be a lot of fun. Here's something I made earlier.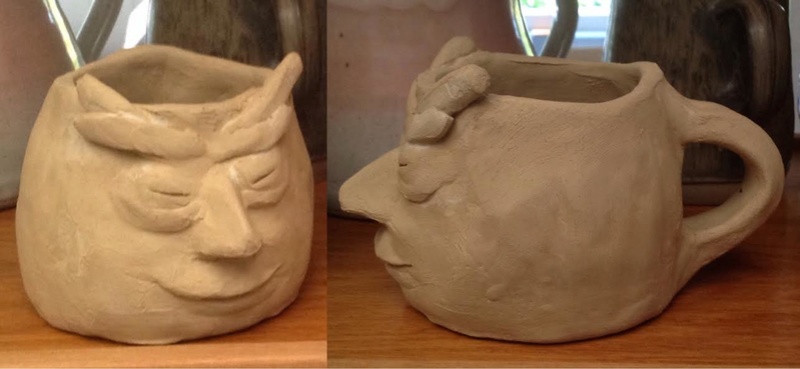 inspired by an Yvonne Rust face mug
Kat had a first play on the wheel today. Watch this space.
.
Next day ...
... I added some handles.
[picture removed]
The mug bodies were still sticky wet last night so I left them alone but they were quite dry this morning. I realised I was not going to be able to turn the bases so sitting them upside down on Kat's lazy susan I scooped excess out of the bases with a dessert spoon and tidied up with a supercloth. I'll see if I can get Margriet to show me turning next week.
-----------
13/12/16
Kat organised a firing over the weekend. All my terracotta mugs to date* have now been bisque fired.  I'm holding out for a wood firing for my stoneware.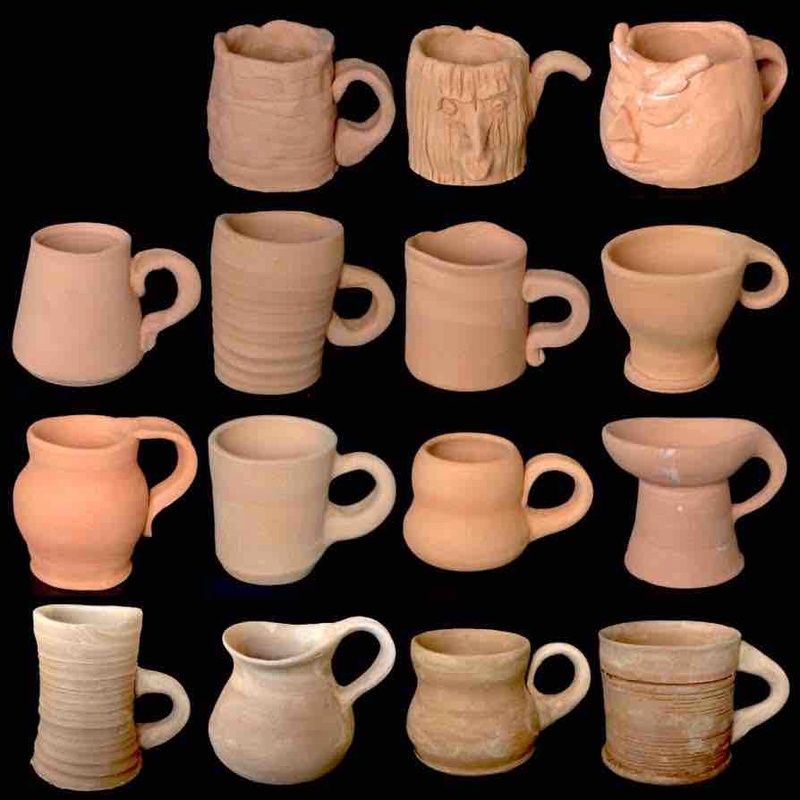 top row: coil and hand-formed
middles: thrown terracotta
bottom: thrown stoneware
*I recycled the slab mugs as I had issues with the handles going on too late then coming off again. I will experiment further another time.
.
.

Jeremy Ashford




Number of posts

: 3150


Location

: Whangarei, New Zealand


Registration date :

2010-09-11



---
Permissions in this forum:
You
cannot
reply to topics in this forum