I felt very privileged to get the opportunity to check out a variety of Glen Afton pottery pieces thanks to Murray a private collector who made me feel very welcome.
A cabinet of Glen Afton was carefully inspected and photographed one by one.
To see the variation of the clay, from yellow speckled and rough, to smooth and creamy was fantastic.
Shards from the pottery site were on display to confirm that the pieces matched the shapes and the clay used.
The mixing bowls were so thick and heavy it was unbelievable.  Foot rings varied from being glazed all over and a three prong stilt used, to the foot ring clear of glaze and no stilt marks.
Stilts from the site were in the collection too and they looked like the ones that were imported from England.  One has a 6 on it which indicates the size.
There is even a saggar that came from the site.  It's rough and ready and really crudely made, but would have served it's purpose marvellously, which was to keep the flame of the kiln away from the pottery.
This art deco jug/vase has a Partridge Pottery sticker and the number 62 stamped on the base, which matches the Partridge price list in Gail Henry's book as a Jug.  I want to add that this jug was copied from Sylvac shape 1344.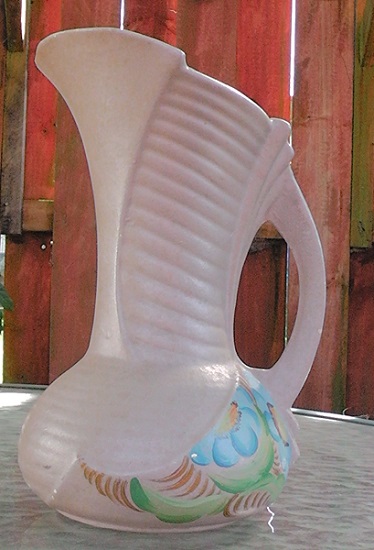 Two Shell vases, one has a Partridge sticker and is brightly coloured, the other is glazed all over with a sponged on decoration and the foot ring is clear of glaze.  There are no numbers on these vases.  Just want to add that these were copied from Shorter & Son.
Mixing bowls so thick and robust they were amazing!  One inside a saggar that would have had a lid as well.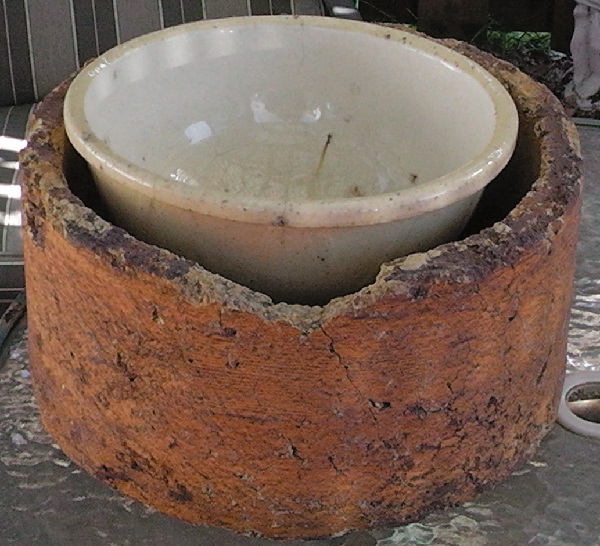 The crude yet wonderful saggar!
The chamber pot with matching shards that were found at the site which confirm that this pot is definitely Glen Afton.
Hot water bottle with screw top.  A matching screw top shard was found at the site and this confirms that this hot water bottle was made at Glen Afton.  There is no glaze on the base.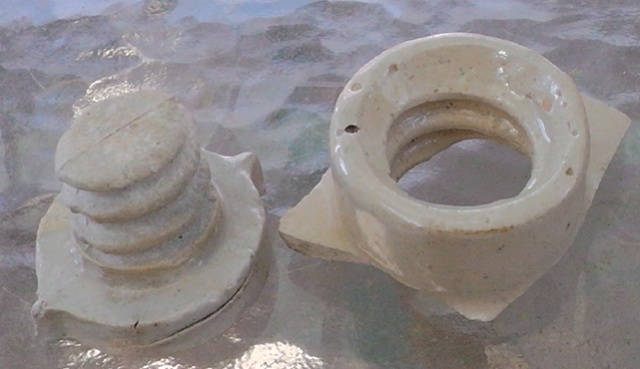 This was an experimental piece Murray was told and only a few were made.
It is glazed on the inside and the base is free of glaze.  What a grim face indeed !!  He has a very long nose.  He came from someone who worked at Glen Afton.
A ball for the ball mill that ground up the clay.  This is the size of a fist and is solid.  It's amazing that it didn't blow up, but I guess the firings were slow to start with.  Carbon is trapped inside the ball which tells me that it wasn't fired correctly, but this didn't matter.  Also it looks like it copped the force of the flame with those warm colours on the outside.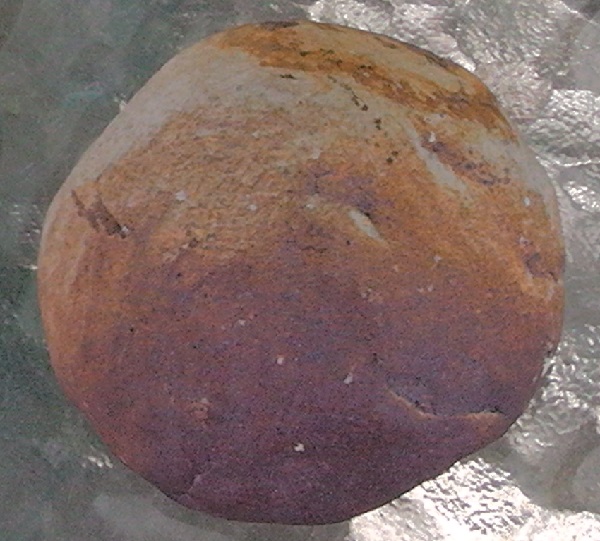 I will add some other interesting pieces of pottery that Murray has in his collection later.  Thank you so much Murray for everything !!
Last edited by Ev on Mon 3 Jul - 9:32; edited 3 times in total
Wonderful stuff. Thank you Ev and Murray.

Maryr




Number of posts

: 1891


Location

: Whangarei


Registration date :

2011-11-17



Great work Ev. Not many collections of New Zealand pottery can boast a sagger too.

teaandcoffee




Number of posts

: 331


Registration date :

2012-04-22




Kat & Co.




Number of posts

: 2294


Location

: Whangarei


Registration date :

2012-12-03



There was another slipcast vase in the collection that has the sponged on decoration.  It has a flat base without a footring.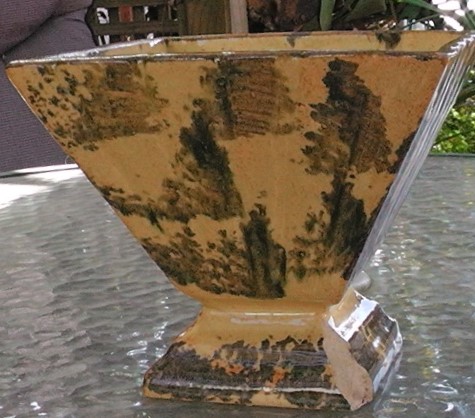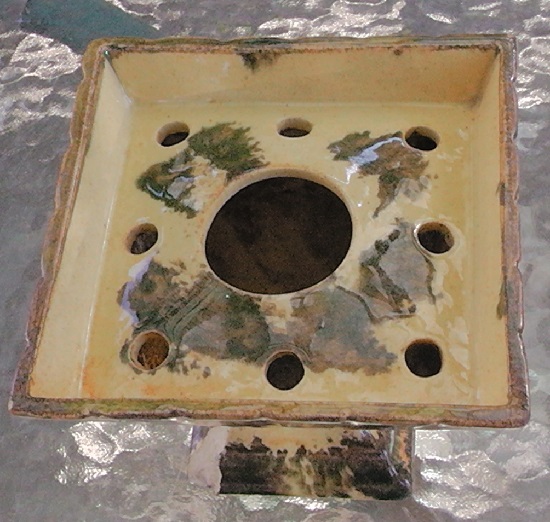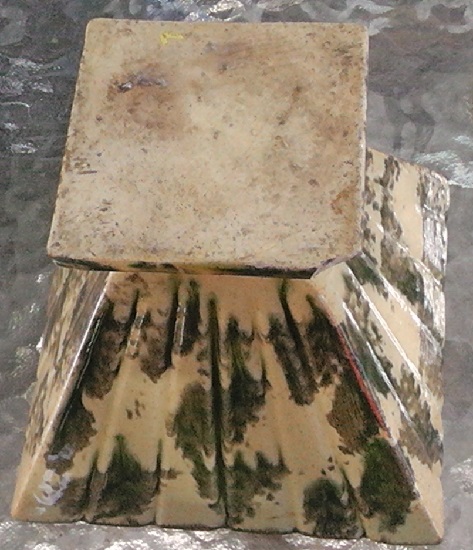 A tiny little Crown Lynn vase caught my attention.  So small, but so beautiful even with a chip out of the rim.  It has a flat base and is stamped.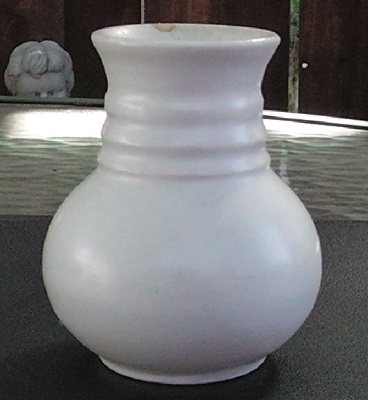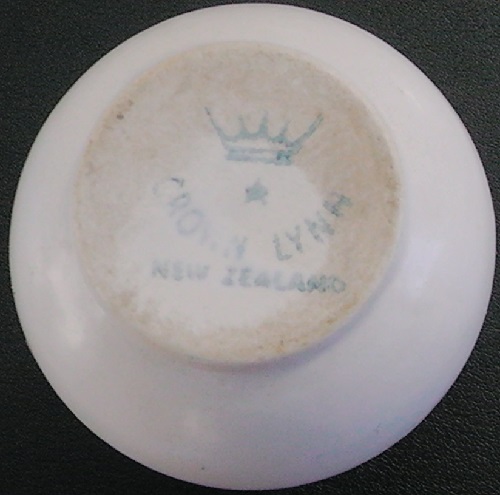 Lastly there were two Drury Pottery terracotta shelf holders.  So very old, so crude, but so very compelling.  Wonderful to see thanks Murray!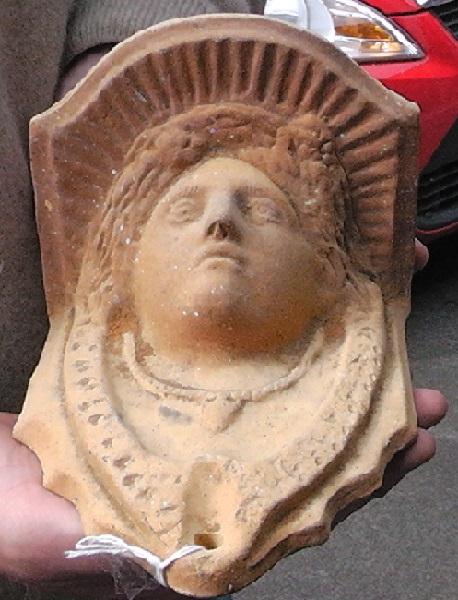 ---
Permissions in this forum:
You
cannot
reply to topics in this forum