Trademe seller tuitua (Nicole) has listed a named Ambrico kettle, "The Windsor".
http://www.trademe.co.nz/Browse/Listing.aspx?id=1281093912
As I told Nicole in the questions, I have taken a great interest in Ambrico kettles and I do not recognise this one at all. I did prepare a topic (not posted) on kettles as I believe that most of those that look like Ambrico probably are, maybe about six different ones, with shape numbers extending upward from about 780 (with the numbers lost to substitutions in the early 1960s). This is not one of those and it looks to me from the photos that it is clear glazed, suggesting an early one.
photos by Nicole trading as tuitua, permission sought and received
.

Jeremy Ashford




Number of posts

: 3183


Location

: Whangarei, New Zealand


Registration date :

2010-09-11



Great spotting Jeremy. 
I have never heard of this one, though it isn't my number one topic in any way, I do see nearly everything that gets posted on the site.

The lid looks very familiar ...
Yes. All have the same lid.
Other makes have similar.
Later ...
Well I got that totally wrong!
This kettle has a nose shape (T) on top while the others just have fins.
Also it has an extra hole.
---------
24/3/17
The kettle arrived this morning. It is in even better condition than I thought.
The handle HAS been reaffixed, and it does have crazing and staining but the worst of the marks visible in the seller Nicole's photo is glue residue from the repair: it runs all round the shoulder on one side and all around the handle but cleans off easily with a knife.
It is complete and, apart from what has already been described, undamaged. Indeed it looks as though I could fill it, plug it in, turn it on, and boil some water. Not bad for a piece of pottery more than 70 years old.
I really think this is a museum piece and have mentioned giving it to Te Toi Uku but I want to have it around the house a bit yet. I will show Finn next weekend.
I will add more photos when I have tidied it up.
Just a bit later ...
The more I look the better it gets. As I sit down to lunch with the kettle in view I note that what I took to be staining is all in the glaze. It is a pale yellow pooling to blue.
And again ...
I think I'm done cleaning for now. Here're my pics so far.
all cleaned up except around the handle repairs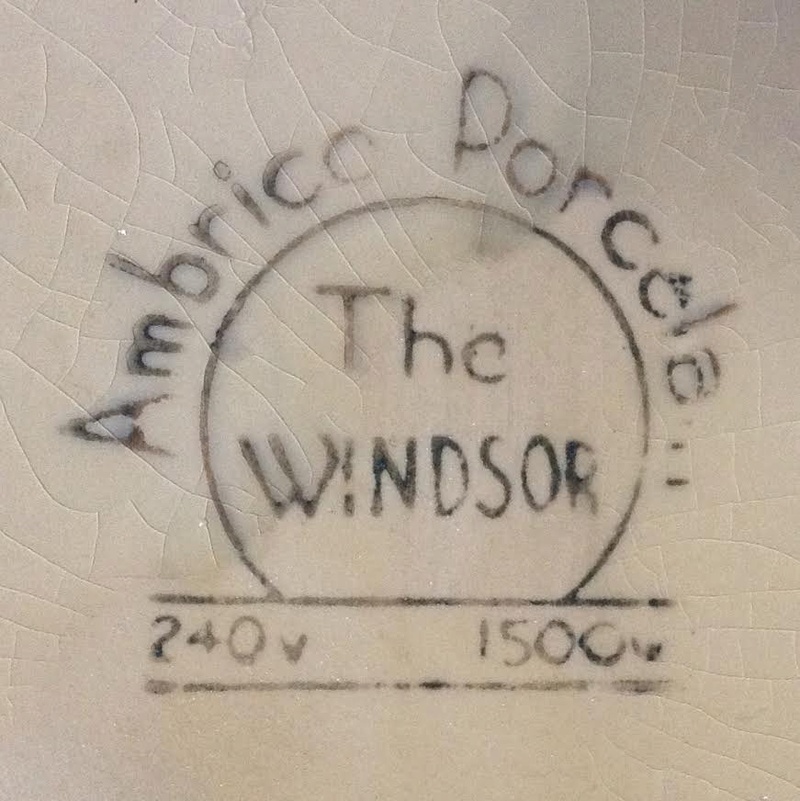 perhaps a little clearer than Nicole's but hers will stay in gallery
my two Ambrico kettles showing that the recent acquisition is taller, 21.5cm vs 20
a view from the top
The top view shows two completely different lids. The second hole in the lid of the Windsor is to hold a stop. The lid of the blue kettle, and every subsequent CL kettle, has a stop added on the underside (which I can't show you without a spy camera).
Note a small hole is visible in the bottom of the power socket, left kettle: this is a drain, to avoid water buildup and short circuit. Position of the drain hole varies from model to model.
Here's a montage of kettle shapes from the net.
I believe every one shown is Ambrico or Crown Lynn.
The top row of the righthand panel shows two similar designs with the only obvious differences being handle shape and decorative banding. I believe the right one, 778, is a remodeling of the left. Bottom left shows a collection of similar kettles in different sizes (plus a 782 shape in green).
Right panel middle row shows shape 782 at left, which appears to be a remodeling of The Windsor. At right is a similarly style kettle.
Right panel bottom row shows two further kettle shapes. At left is shape 785. The other looks like a Temuka kettle but it is not.
All these kettles are made in New Zealand and, with the exception of the Windsor, all have the same lid shape (see earlier picture), which is similar to (but different from) those of some Australian kettles, and an entirely different setup from Temuka kettles.
.

Jeremy Ashford




Number of posts

: 3183


Location

: Whangarei, New Zealand


Registration date :

2010-09-11



---
Permissions in this forum:
You
cannot
reply to topics in this forum