I feel I have recently carved out a wee niche commenting on New Zealand ceramics from the 1950s and before. This is a period before specialist literature was widely available in New Zealand and I guess, art, craft and studio ceramics were assumed by many to be the domain of the hobbyist rather than a serious career option for an aspiring young creative - plucky pioneers such as Len Castle and Patricia Perrin not withstanding.
It means that the period may contain some interesting but now obscure episodes in the story of New Zealand ceramics that really deserve to be more securely lodged in the record. The problem is a lack of readily available primary source material; so a story like that one I am about to recount will contain a strong draft of inference, speculation and perhaps, wishful thinking.
It starts, as so many do on newzealandpottery.net, with an optimistic though realistic pilgrimage to the local opshop.
There, on a shelf among the junk, your eye is drawn to a small ceramic figure. You look away. But not for very long. Years in the muddy trenches of lack-luster charity shops, casting about for a rare scintillation of gold dust amid the usual slush sharpens the senses. The pulse slightly quickens, the oesophagus narrows in sympathy with those beady eyes as you turn over a prospect. But what is it? Synapses start firing; that crossword-honed brain starts bucking in unfocused lateral directions. You are looking at an abstract modernist figurine of two seated lovers clasping hands.
It appears to be a small ceramic maquette in the style of the supreme master of British modernist sculpture, Henry Moore. Did Henry Moore dabble in porcelain you ask yourself? Because by now, you have turned the piece over and started to run off the diagnostic check list. What substance is the object made of? (High fired, dense vitreous porcelain). What quality of manufacture does it have? (Good) Are there any helpful marks? (No). Is it damaged? (No). What is the price? (My secret).
The options start narrowing as you ask additional questions. Is it really Henry Mooresque or are you deluded? (Yes it is, but with some elements which suggest 'a follower of' rather than the master himself).
What would it be doing in New Zealand? Well, the porcelain, its colour and density, and the way it's finished absolutely flat with a fine grinder, does remind you very much of some of the Temuka figurines from the 1950s that you have stashed away in the back of a wardrobe somewhere. Could it be?, you ask yourself doubtfully.
Your eyes graze over the surface of the variable dun/cream coloured glaze. As a matter-of-fact, in the dusty back of your mind you do recall having seen a Temuka figurine that might have had a similar glaze; but is that just the sadistic memory playing tricks on you again; lifting you up on a cloud only to have prepared a bed of jagged glass for a landing pad? You know it's happened before and will certainly happen again. You don your thick, hard-won armour of skepticism.  
Lets review: It looks like a Temuka figurine in insulator porcelain dating to the early to mid 1950s. This is also the decade Henry Moore was solidifying his reputation as one of the twentieth century's more innovative, creative and productive exponents of international modernism. It could be a fit.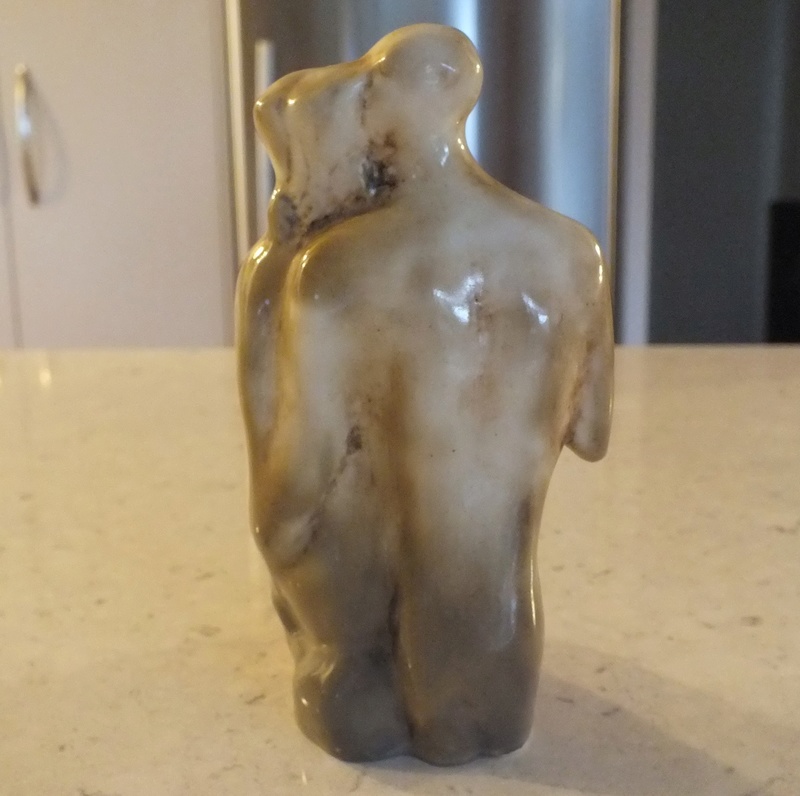 You turn to Temuka, recalling that Temuka's Thomas Lovatt commissioned a series of figurines from the late 1940s though the 1950s for staff and as corporate gifts. Here things start getting a bit murky. The figurine you are looking at is far too avant-garde for anything you consider Lovatt would likely have made. So the mystery deepens.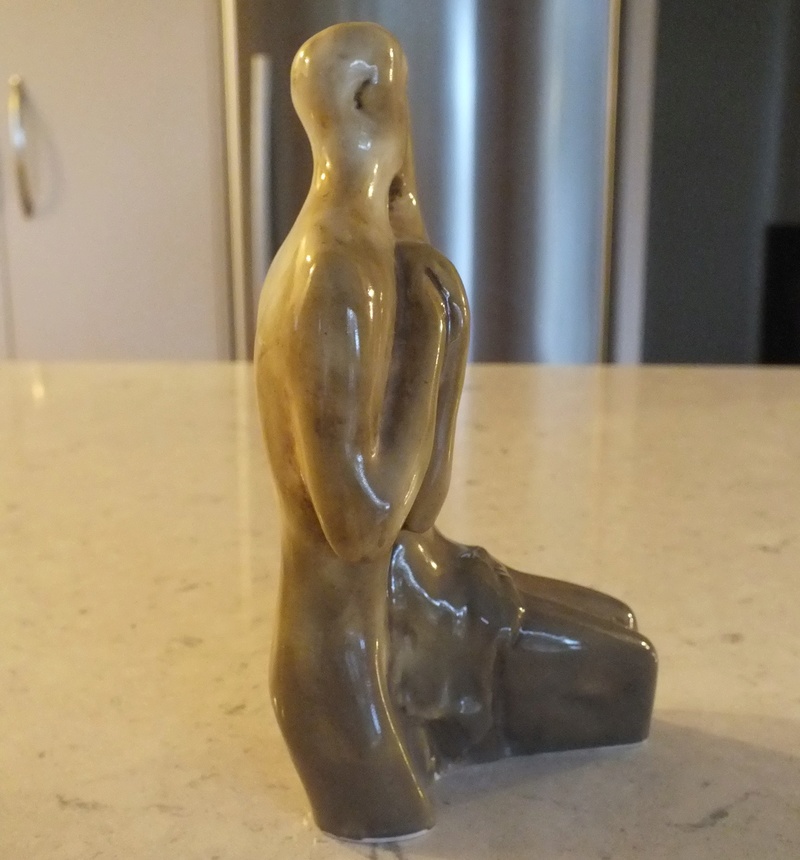 With furrowed brow you cradle your find at the counter and pass over the asking price. Do you have a bargain or a bust? At this point, it must be said, the jury is still trying to win over its more obstinate members. This is the type of object you file under "more research required".
So it sits around for several months as you play with options, give Google the occasional workout, and largely remain none the wiser. "Henry Moore" and "porcelain" as keywords come up empty. You need to take a different tack.
Who in New Zealand fine art and sculpture circles was under the influence of Moore in the 1950s? The list is gratifyingly short as it turns out, and there is a helpful book to boot.
New Zealand Sculpture
, by Michael Dunn, 2002. (Incidentally, as head of Elam Art School of Fine Arts, Dunn was a successor to A.J.C Fisher, who we believe designed many of Ambrico/Crown Lynn's early shapes).
The relevant chapter is number six, "Post-War Sculpture: 1945-1965". You can get most of it in this search:
https://books.google.co.nz/books?id=ANcefr26DakC&pg=PA68&dq=New+Zealand+Sculpture+post+war&hl=en&sa=X&ved=0ahUKEwjUv8r6gLrTAhXEkpQKHVgOCDsQ6AEIIDAA#v=onepage&q=New%20Zealand%20Sculpture%20post%20war&f=false
The two relevant names that emerge are Russell Clark and Alan Ingham.
Alan Ingham (born Christchurch 1920), trained in sculpture at the Central School of Art in London in 1947 (also Robert Nettleton Field, Olive Jones and Graeme Storm's
alma mater
). He was then accepted by Henry Moore as an assistant, specialising among other things in mould-making and bronze casting. He returned to New Zealand in December 1953 to strike out on his own. His first port of call was to the studio of Russell Clark where he worked for 'a period' in 1954. Clark had been the Third New Zealand Expeditionary Force's Official war artist in the Pacific, and by the 1950s and 60s was one of this country's most important and productive artists.
Dunn (pp. 73-74) writes
"Clark responded to contact with Ingham and began work on a group of works influenced by Moore's sculpture. One of the earliest of these, datable to Ingham's stay in Christchurch, is
Two Figures
, (1953-54). It is reminiscent of Moore's Family Group bronzes (1945-47), with the small heads, long necks, and wide shoulders, as well as the complex interlocking of the figures typical of that series. Clark however, fails to achieve the extreme economy of Moore's treatment; for example he renders details such as ears, eyes, and nose naturalistically compared with Moore's inventive use of nobs and split-head forms".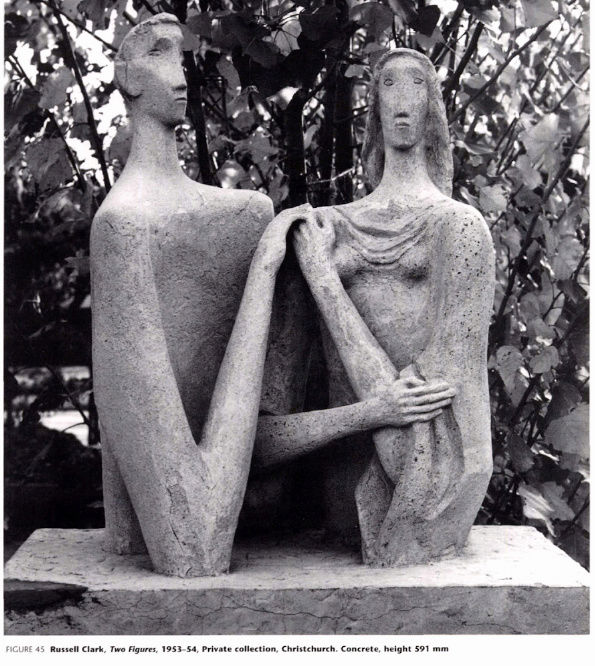 As you read this and inspect the book's illustration of Clark's
Two Figures
, (p. 74; illustrated above under fair use), a resolution to your quandary rapidly coalesces in your fevered mind. The composition concept is the same as your porcelain figure, and even more provocatively, the figurine also appears to bear the "small heads, long necks, wide shoulders" and "naturalistically rendered details such as ears, eyes and nose" that Dunn suggest is diagnostic of Russell Clark's Moore-influenced sculpture.
You ask yourself, "Would I be traducing logic to attribute this to Russell Clark, under Henry Moore and Alan Ingham's influence?".
But first you have to address the question of what might the circumstances have been in which Temuka Potteries came to cast an early modernist maquette by Russell Clark?
On the base of the figurine is a price – seven shillings and sixpence. If we assume this was priced in the fourth quarter of 1953, this converts to $20.03 in first quarter of 2017 dollars adjusted for inflation, according to the Reserve Bank calculator.
As things stand, the rest of the story is pure 24 karat speculation, but it is the one you tell yourself.
According to the essay (also written by Michael Dunn) in the well-illustrated catalogue for
Russell Clark: 1905-1966, a Retrospective Exhibition
, Robert McDougall Art Gallery, 1975,
"Often [Clark] had to solve problems caused by the lack of facilities in New Zealand. For example, he had to experiment with cold casting techniques and metalic finishes for his sculpture because there were no bronze foundries in Christchurch." (p. 18) The entire catalogue is here:
https://christchurchartgallery.org.nz/media/uploads/2010_08/RussellClark1975.pdf
It is not much of a leap to speculate that Clark, in the course of this needs-must experimentation, also considered the question of whether ceramic casting might deliver satisfactory results, and as an experiment, dispatched one of the moulds he had made with Alan Ingham's help, to Temuka, where they cast a small production run. The resulting figurines, Clark could have sold from his studio or at an event such as his one-man exhibition held at the Wellington Architectural Centre in August 1954. (ibid. p. 62).
A very intriguing work is illustrated on page 43 of the 1975 catalogue. It is a painting of one of Clark's work benches covered in Henry Mooresque modernist maquettes. (below is a scan put up here under fair use). Is one of these maquettes this porcelain figurine? It is hard to tell as the image is small, black and white and unclear, but enough to get a little bit excited about.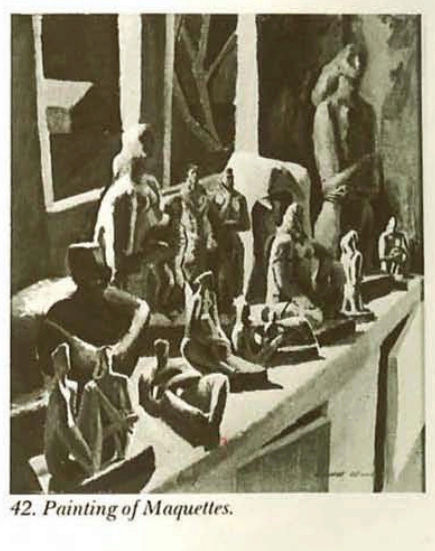 Comparatively few prominent New Zealand fine artists turned their hand to ceramics. Our most prominent ceramic sculptors of a modernist bent during the 1950s-1980s were Roy Cowan, Nola Barron and Muriel Moody (arguably also Barry Brickell with some of his sculptural work). James Greig came along a little later and Tony Fomison had a go at clay in the 1970s. There are not many others. If the conclusion outlined in this story stands, this small piece might pre-date anything else by several years.
I hope someone will be brave enough to comment on this long winded post. I think it is an interesting little piece.
Last edited by teaandcoffee on Tue 25 Apr - 16:01; edited 3 times in total

teaandcoffee




Number of posts

: 331


Registration date :

2012-04-22



Impressive sleuthing T&C and I'm totally absorbed by your thinking and can't fault any of it.  To find the artist of the mystery piece is a joy unto itself, but to find all of the other relative information makes for a masterpiece.
I could see your piece in the studio with the maquettes, well at least one very similar.
How rewarding to discover this wonderful journey from an opshop purchase and to follow it through to satisfaction.
Just a couple of more names to add to your early South Island potter/artist list ...
Doris Lusk/Holland
Anne Hamblett/McCahon
An excellent and inspiring read thank you.
Thanks for the positive comments and additional names Ev. I edited it a bit - some of the cute phrases you think of at 12 am don't sound so fresh on a morning reread. One of the drawbacks of writing a long post direct to a forum.

Another name that comes to mind is https://en.wikipedia.org/wiki/David_Brokenshire in Christchurch, but I feel he was somewhat seduced away from modernism, as Patricia Perrin was, by the aesthetics and asceticism of the Anglo-Orientalist narrative in the 1960s.

Interestingly his war service was in the Pacific too.

teaandcoffee




Number of posts

: 331


Registration date :

2012-04-22



It looks like there is at least one other porcelain maquette by Russell Clark out there (different shape though):
https://www.artprice.com/artist/177796/russell-clark/ceramic/2710253/male-head?p=5

The auction was way back in 2002 and I don't know which auction house it was, but there was another lot in the same auction described as "Male Head, plaster", which probably indicates that the same mould was used to produce both plaster and porcelain casts.

My theory is that this porcelain male head will also turn out to be made using Temuka NZ Insulator clay, and fired there.

Clark's archives are kept at the Christchurch Art Gallery, so one day some enterprising person could follow this intriguing ceramic story up.

Clark's other ceramic work included massive public mosaic murals:
https://christchurchartgallery.org.nz/collection/9261
https://christchurchartgallery.org.nz/blog/behind-the-scenes/2014/09/a-modernist-mural-two-drawings-a-missing-piece-fou
http://www.antiquesreporter.com.au/index.cfm/lot/1044153-russell-clark-modernist-coffee-table-with-ceramic-mosaic-top-fea/?prices=1

teaandcoffee




Number of posts

: 331


Registration date :

2012-04-22



---
Permissions in this forum:
You
can
reply to topics in this forum