Seraphine Pick is a noted NZ artist. Yesterday in Kawakawa I found a vase with her name on the base - then in Kerikeri a little plate with "Pick" on the base. WHAT does this mean?  Seraphine grew up in Kawakawa. I can find no reference to her decorating pottery in her early days - she did participate in an exhibiton of decorated pottery at the Young gallery in Wellington later on, but the works certainly didn't look like the ones I found.  The signatures both look as though they are under clear glaze. Otherwise i would suspect that Seraphine wrote her name on a couple of things that she owned but did not decorate. It is all weird but very interesting. I know nothing about art, but her name has always struck me as so lovely, that I recognised it immediately.  The vase is 10.5 cm tall, the plate 14 cm across. I will post these on the NZ studio pottery facebook page, too. Below is a link to an article about the Young gallery exhibition. If you google "Seraphine Pick" heaps of references come up, but none that help me!
http://www.stuff.co.nz/dominion-post/culture/80368760/seraphine-pick-laurie-steer-and-the-public-create-pottery-at-the-young-gallery
[/url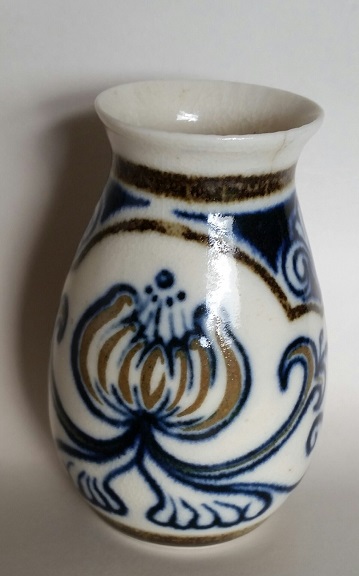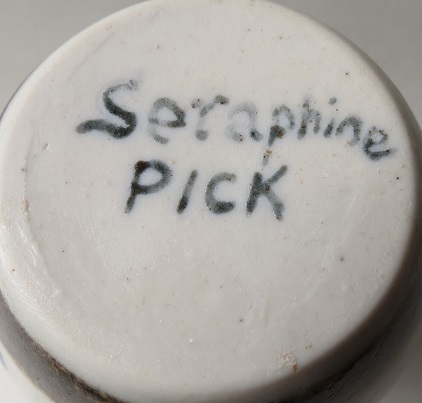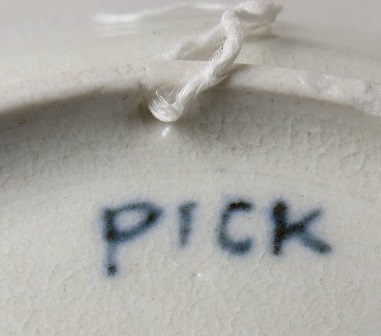 Last edited by Maryr on Sat 27 May - 13:32; edited 1 time in total

Maryr




Number of posts

: 1967


Location

: Whangarei


Registration date :

2011-11-17



These are definitely the work of an artist. 
I have such envy for the talent they have.
Who else would have a name like that?
I think you have nailed it Val.
Excellent news, thanks to the lovely people on the studio potters facebook page, I have been in touch with Seraphine Pick.  It turns out her father Beresford Pick was (and still is) a potter, and when the family lived in Russell in Northland, Seraphine began decorating pots made by her father. She thinks she probably decorated this vase when she was about 12 years old.

The the round plate with the mark PICK is Beresford's work with his mark. Seraphine marked her work with her full name or with 'S.PICK'.

Seraphine also decorated some ware with 'figures on them, all of my own imagination.'  And she made little ceramic animals and figures. All something to look out for. She said she never really had a knack for throwing, but she enjoyed decorating and sculpting.

Beresford and Seraphine sold their work in the Russell hall in the Bay of Islands, so there will be more around.  She thinks the items I have found are probably from the late 1970s, but she will check with her father.

The ware was fired in a diesel brick kiln. Years later when the house was sold, the new owners made the kiln into a barbecue. Seraphine told me her father is still potting, aged nearly 77, in Derbyshire in the UK.

Seraphine sent me photos of another vase with the S.PICK mark, and once I have her permission I will post them on this site.  I am thrilled by all this - how wonderful to discover this little treasure made by one of NZ's foremost artists!  Now I need to find her little figurines and more vases! Fat chance I know, but they were sold in Northland so they might be out there somewhere.

Maryr




Number of posts

: 1967


Location

: Whangarei


Registration date :

2011-11-17



Excellent history Val and great to have this info on the site.
This is very interesting, thanks Val.

teaandcoffee




Number of posts

: 331


Registration date :

2012-04-22



Photos courtesy Seraphine Pick. Now we just need to find her little figurines!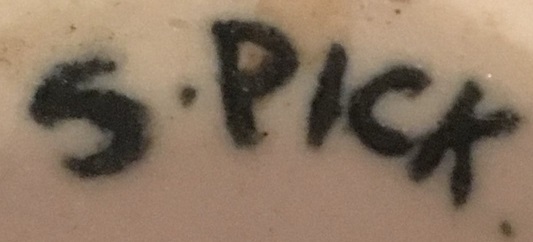 Maryr




Number of posts

: 1967


Location

: Whangarei


Registration date :

2011-11-17



---
Permissions in this forum:
You
can
reply to topics in this forum