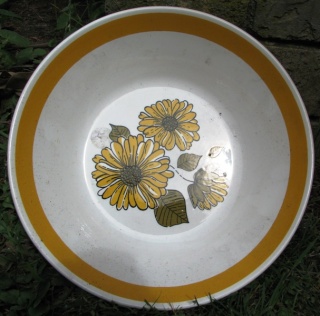 and the backstamp...
Rightio so the Charmaine above is from the Forma range.
At the Retro Fair I saw a pattern that we got for MIL in the 1970's and it looked like Charmaine, but with a deep honey background on the shallow Coupe shape and I'm sure that the pattern was under the glaze, unlike the Charmaine 333 which is on top and can scratch over time.
I didn't think to take a photo! I haven't seen another in all the time that I've been looking for patterns. It is much 'smarter' looking than Charmaine and MIL loved it. She had no pieces left when I asked her if I could take a photo to put in our Gallery a few years ago.
Does anyone have this pattern?
---
Permissions in this forum:
You
cannot
reply to topics in this forum