I feel okay posting this now as Kat has had a preview but this thing is so tricky to photograph that I see if Val can do a better one for my facebook page. Here's my story.
It never ceases to amaze me what appears at my mother-in-law's house. As my collecting interests change I look with different eyes. I have previously walked away with a NZR refreshment rooms tea cup, used for storing odds and ends in a kitchen cupboard. It had belonged to a past tenant. In the same cupboard last Friday evening I saw a Titian mug, that I recognised by shape (as I have one and swapped another with Jim), with kiddie transfers, handle snapped off and glued back.
Wandering down the hall in dim light I saw a vase with a hula girl on and thought, "no, it's a tiki mug". Turned out to be a Trader Vic's Samoan Fog Cutter which belonged to a long time tenant, also long since departed. "That was Stan's," I was told, "do you want it?" I will post the details of that elsewhere.
Just a few minutes after spotting the tiki mug I reached down to the lower shelf of a plant stand that had somehow avoided dusting for many a year, or decade, and lifted out an old bottle. Oh dear what have I found now. "That old thing" m-i-l said, "you can have it". "But it looks like a piece of Milton pottery about 120 years old," I responded, "could be worth hundreds of dollars". Not a problem. It's not going to be sold, just moving house.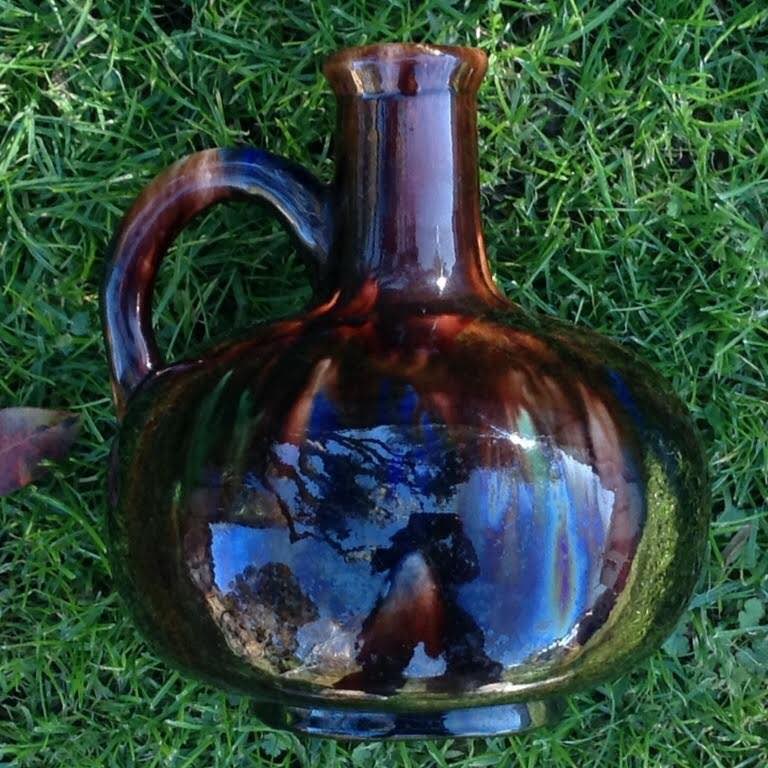 self portrait, with Milton
Web search turns up the exact shape sold at auction (KiwiAuctions) last year: "195mm tall, Majolica high gloss Whisky Jug, attributed to Milton Potteries, small inner rim chip, Rare, Very Good Condition." I'm not subscribed to that service so the price is not available. M-i-l's whisky bottle is darker but the colours do jump out at you in good light. It has no damage, although there is some damage to the glaze at the base where it has run and stuck it to the saggar and had to be chipped off. Not damage but manufacturing flaw, antique manufacturing flaw. Like the auction piece it is not marked for maker.
https://www.the-saleroom.com/en-gb/auction-catalogues/kiwiauctions/catalogue-id-kiwi-a10001/lot-85093652-bea9-49be-b334-a5c6008b81a8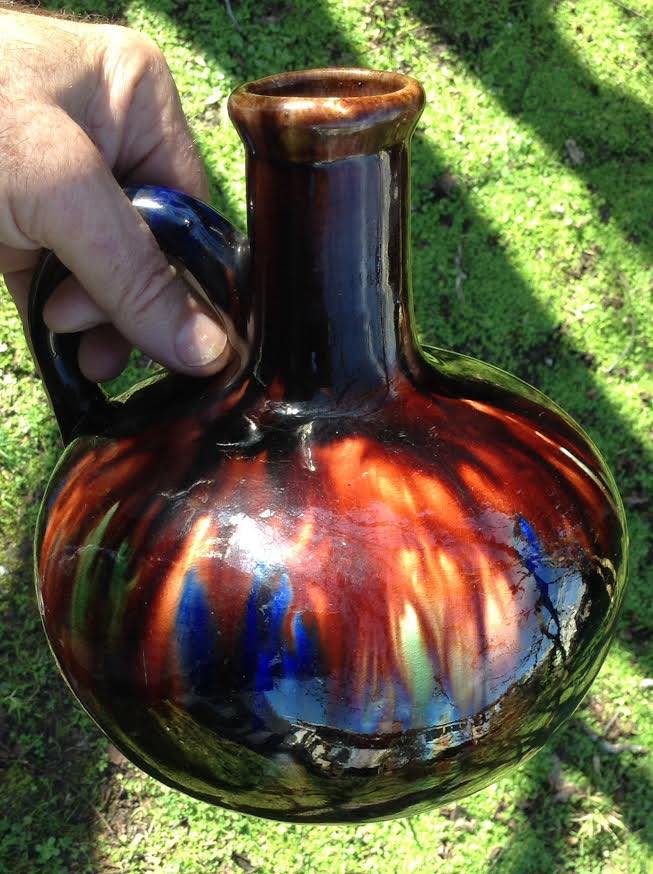 the colours jump out in the sunlight
Reading of Gail Henry tells me that majolica ware was made during the period when the pottery at Milton was known as "The Potteries", between 1887 and I 891. That date ties in with a photograph of Milton wares that Gail places as being a display at the Dunedin 1890 exhibition. I do not see the Whisky bottle in the display.
I have searched majolica bottles and this sort of ware does seem to be more typical of Milton than any other pottery.
I asked Mark Goody at his opening at Masterworks on Sunday if he'd like to see a piece of Milton: "Yeah." And as we had just stopped in for a quick look at the show before heading North I nipped out to the car and brought it in to show him. He did not hesitate to agree that it was indeed Milton: "Yeah."
.
4/11/17
another try at a photo
Last edited by Jeremy Ashford on Mon 4 Sep - 16:44; edited 1 time in total

Jeremy Ashford




Number of posts

: 3193


Location

: Whangarei, New Zealand


Registration date :

2010-09-11



My word that is gorgeous Jeremy !!!
I fell in love with Milton pottery when I was in Dunedin in March chasing aurora.
It appears that I didn't post any pics on here from the Museum, but I posted in other places and used up all of my data at the time.
We need a Milton Gallery and I need to post the photos that I took.
Ev, I don't get to Auckland Museum much, and in recent times my agenda has been furniture and Crown Lynn but their Milton collection amazed me. I could not believe it was NZ Pottery, and so old, and they had so much. I must go back and review it now.

A Milton gallery sounds wonderful.

Jeremy Ashford




Number of posts

: 3193


Location

: Whangarei, New Zealand


Registration date :

2010-09-11



I'm pleased to see one of these bottles in the display cabinet of Milton Pottery at Milton Museum:

http://www.nzhistoricalsocieties.org.nz/members/milton-museum.htm

It seems more credible than "attributed to" in an auction catalogue.



Jeremy Ashford




Number of posts

: 3193


Location

: Whangarei, New Zealand


Registration date :

2010-09-11



---
Permissions in this forum:
You
cannot
reply to topics in this forum