Brendan Adams castware mug shape made and decorated by Bruce Haliday.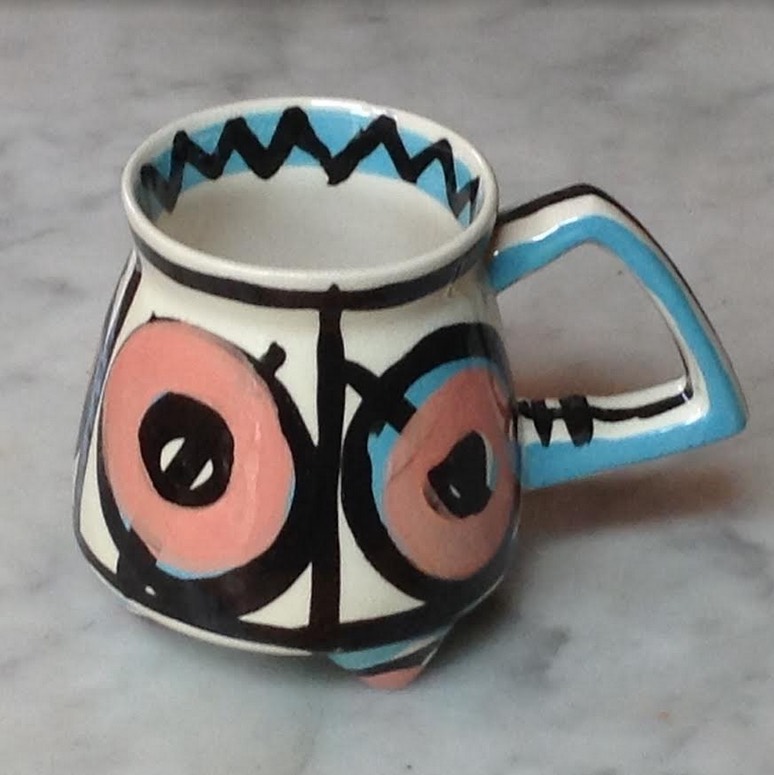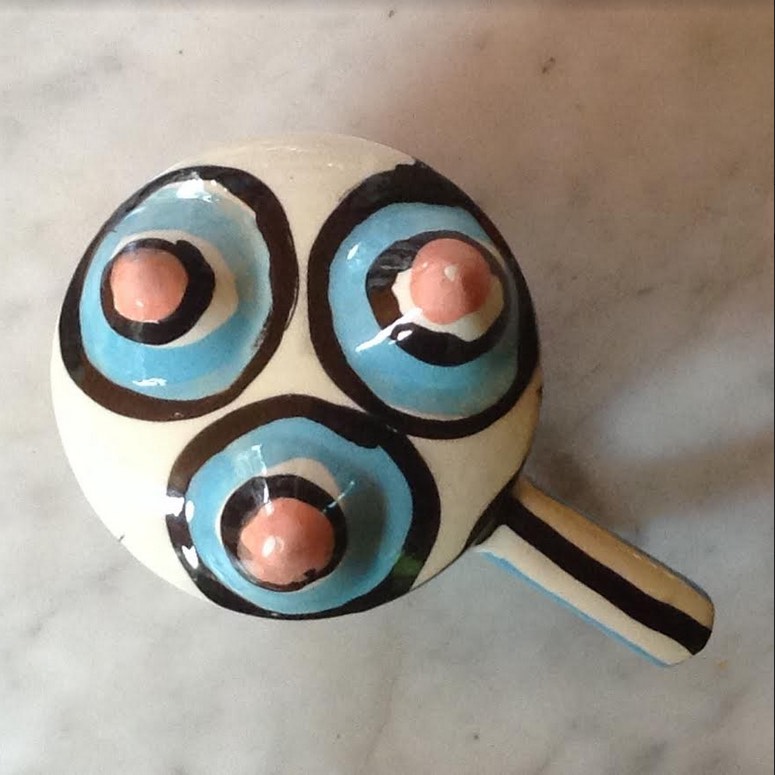 I photographed this at a friend's place (along with a couple of other unidentified mugs) on my last visit to Auckland and posted it on Facebook as maker unknown. https://www.facebook.com/photo.php?fbid=1573958186000912&set=pcb.876599912490041&type=3&ifg=1
Bruce Haliday replied:
"The one with the feet is from about 1987 - 88, The form (mould) is Brendan Adams, although I made it and decorated it. It was his first cup I think, Long story. tell you more later."
And later:
"Sorry, I had to take the kids to school... So anyway, This form came from a time Brendan came to work at Sue and my studio in Titirangi. Brendan made the mould and made some versions, (same form but with other decoration) but I think he didn't want to make cups, more bigger things I think. So he stopped making it, I was making cups (paying the rent with them) so with his permission I started making it. We were working on the same table so, just a matter of moving the casting across the table really. I did them in a few patterns. This one I possibly made a 100 of probably more. But there were other patterns. When I came back from London and started up Out Of The Blue Workshops with Brendan, I gave him back the mould and I am pretty sure he made some more. If I remember there was a slight design fault (although not major). The handle was quite big and heavy, so without fluid in them to weigh it down they could fall over and onto the handle, wasn't major. I just cast them thicker to give more weight to the mug. I have some other pictures. I will post if I find them."

Jeremy Ashford




Number of posts

: 3193


Location

: Whangarei, New Zealand


Registration date :

2010-09-11



I have one of my own now.
I'm awaiting word from Bruce Haliday as to who was the decorator.
Brendan Adams castware mug with sgraffito decoration

Jeremy Ashford




Number of posts

: 3193


Location

: Whangarei, New Zealand


Registration date :

2010-09-11



Bruce Haliday has told that this is indded his, 87-89ish, and reminded me that he made the mug from Brendan's mould as well as decorating it.

I was very tempted to hassle Andrew into letting me have his so I feel great on two counts to have found my own.

BTW, my immediate thoughts on spotting this were "Bruce Haliday Bruce Haliday Bruce Haliday etc" !!!

Jeremy Ashford




Number of posts

: 3193


Location

: Whangarei, New Zealand


Registration date :

2010-09-11



---
Permissions in this forum:
You
cannot
reply to topics in this forum