Photos courtesy of Miranda g who was given this name by a person on TM who kindly told me who she was in the Q/A of my listing.
As I cannot find any confirmation for this mark I will keep the question mark there for those who are seeking information.
I would love to hear from anyone who can confirm this mug and mark as hers, as the mark is not very clear.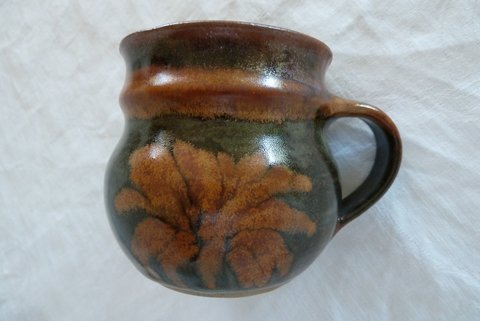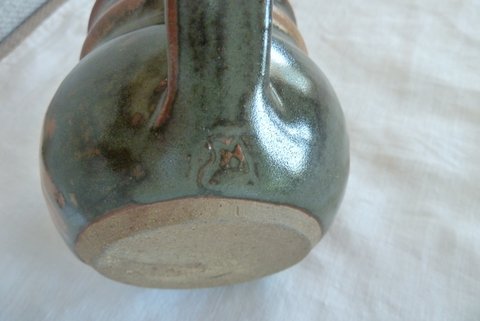 Last edited by Ev on Tue 2 Feb - 18:05; edited 1 time in total
Ev wrote:Photos courtesy of Miranda g who was given this name by a person on TM who kindly told me who she was in the Q/A of my listing.

As I cannot find any confirmation for this mark I will keep the question mark there for those who are seeking information.

I would love to hear from anyone who can confirm this mug and mark as hers, as the mark is not very clear.

Hi, I am not sure what year this was posted so my reply may be some considerable time after. I can confirm that this mug was made by Marjorie Johnston, who was my mother! This was a regular pattern of hers in the mid to late 1980s. Her mark is the head of a dog with the ears being the 'M' for Marjorie and the jaw and nose a 'J' on its side for Johnston. Both my parents were potters from Craft Potters in Nelson. The mug may have been made by Dad - Gordon Johnston, then glazed and decorated by Mum. Many of their pieces were a joint effort. Mum also threw much of the domestic ware they made and always did the decorations on their pieces. Mum potted from around 1975/76 and Dad from around 1978/79 until 1994/95. I hope this is helpful. Robyn Johnston (posted 2/2/2021)

Robyn J




Number of posts

: 3


Registration date :

2021-02-02



Thank you so much for confirming the mark Robyn.
The original post was from 2018 so it wasn't that long ago in the big scheme of things.
Thanks also for the insights and I just want to ask if your Father used a different mark, or did they share the same one?
We want to record as many potters as possible on the site.
Cheers Ev
Hi Ev,

As far as I remember both Mum and Dad used the same mark. They did a lot of domestic ware during their 20 or so years as potters which was sold throughout New Zealand. They supplied to a number of gift type shops mainly in the South Island but also one or two in the North Island. Not all of their pottery was marked but the designs that Mum put on them are quite distinctive and easily recognised by those that knew their work. Please feel free if you want any further information or photos of their pottery.
Kind regards
Robyn

Robyn J




Number of posts

: 3


Registration date :

2021-02-02



---
Permissions in this forum:
You
cannot
reply to topics in this forum