There is an exhibition of New Zealand studio potters 'TEAPOTS' currently on show at Rick Rudd's Quartz Museum in Whanganui. This diverse array of teapots has been amassed by Lindsay Garmson over a long period beginning at Driving Creek Railway and Potteries where he worked for many years.
Barry Brickell told Lindsay "A potter must use all the clay techniques to make a teapot"
The English potter, Michael Cardew, in the New Zealand Potter magazine (Vol 22/2, Spring, 1980) stated "A teapot has little to do with the efficient pouring of tea, it is first and foremost a poem written in form)
The exhibition will be on show until the end of June, 2020.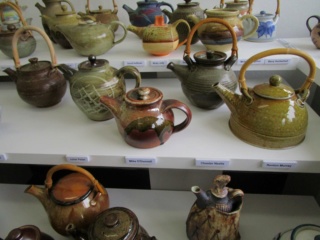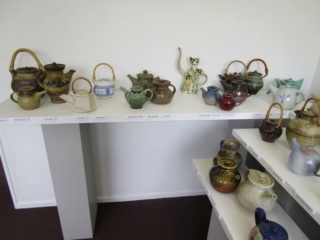 There are 95 TEAPOTS on show until the end of June, 2020. The names of the potters work exhibited are: Peter Alger; Robin Anaru-Anderson; Catherine Anselmi; Pamella Annsouth; Paul Armstrong; Barry Ball; Greg Barnett; Arnaud Barraud; Greg Barron; Glen Beattie; Adrian Bevis; Steve Bishopric; Anneke Borren; Barry Brickell; Ann Briggs; Cabbage Tree Pottery; Tania Carey; Rose and Bram Chapman; Fran Conquest; Bronwynne Cornish; Roy Cowan; Ian Dalzell; Harry and May Davis; Doris Dutch; Lawrence Ewing; Frank Finan; Ian Firth; Steve Fullmer; Lindsay Garmson; James Greig; Dennis Hadfield; Bruce Haliday; Linda Harris; Michael Haughton; Barry Hockenhull; Ian Hodge; Peter Holmes; David Huffman; John Ing; Nicky Jolly; John and Shirley Killick; Paul Laird; Raeburn Laird; Peter Lange; Meg Latham; John Lawrence; Warwick Lidgard; Bruce Lysant-Clayton; Jane McCallum; Royce McGlashen; Helen Mason; Paul Melser; Marion Mewburn; Petra Meyboden; Ross Mitchell-Anyon; Renton Murray; Chester Nealie; Mike O'Donnell; Juliet Peter; Sue Pidgeon; Robert Rapson; Ross Richards; Julie Ringland-Stewart; Bill Roberts; Kerry Rombouts; Sanson Pottery; George Sempagala; Jenny Shearer; Peter Shearer; Barbara Skelton; Tony Sly; Mirek Smisek; Janet Smith; Toby Stafford; Nick Stather; Bob Steiner; John Stephens. Peter Stichbury; Graeme Storm; Bev Thatcher; Hooley Thin; Warren Tippet; Paul Tobin; Heather Townsend; Mark Tugendhaft; Fiona Tunnicliffe; Andrew van der Putten; Carl Vendelbosch; Sally Vinson; Doug Wasywich; Chris Weaver; Ronald Wendy; Ben Woollcombe; Janet Wright; Wilf Wright…..on show in Rick Rudd's collection are teapots by other potters including Len Castle; Rick Rudd and others – The exhibition is worth a visit.
Due to the Quartz being closed over lockdown, this exhibition will now continue until the end of July.


---
Permissions in this forum:
You
cannot
reply to topics in this forum