I will be working on a Crown Lynn Swan Timeline, which needs to be done to clarify some points of interest.
I know that many people have written about these fabulous swans, but I still think that they need a timeline.
Be patient as I only have limited time and I will be editing as I go as this will be my rough draft right through to the finished product.
A link to the fabulous Crown Lynn Swan Gallery can be found here
https://www.newzealandpottery.net/gallery/More-Crown-Lynn-Galleries/Crown-Lynn-Swan-Gallery/Crown-Lynn-Swan-Gallery-cat_c15.htm
c1945 - 1948
:  In the days of Amalgamated Brick and Pipe (Ambrico) Tom Clark brings back a Sylvac swan and asks David Jenkin to copy it.  The first swans were glazed in the Porcelain Specials Department lead based glazes and were stunning, especially when more than one colour was used.  Only the Baby 154 Swan and the Large 170 Males Swan have these amazing colours on them, which indicates that these swans were the earliest made.  I have never seen a Large 170 Female in these glazes.
Sir Tom Clark is quoted by his hairdresser Noeline who commented on Val Monk's blog as saying that they only made Female Swans, one is in the water and one is on the land hence the same number.  The one on land is the one commonly called the Male Swan.
Sylvac made the baby swan in the same shape as we know as the Baby 154 Swan and the Large Female 170 Swan, but they didn't make the Large 170 'Male' Swan shape and I can't find where that one originated.  Any thoughts?
This little 154 Baby Swan was handpainted by Ann 7.11.1947 and has a Crown Lynn sticker on the base ... photo courtesy of Manos.  The 170 on land courtesy of mumof1.


c1948 - 1955
 Changes came thick and fast in 1948 as skilled pottery workers were employed from England and very white clay was used, thanks to Matauri Bay clay and a Matt White Glaze was developed, plus the pottery was endowed with the name Crown Lynn.  The Tiki and stars stamp was used as well as cursive stamps.
It was during this time that the Large Female sitting on water was first made in Matt White and Black also the Large Swan standing on land (Male) plus the small 154 Swan going by the backstamps used from 1948 - 1955.
Two catalogues from around 1953/54 show the Large Male and the Baby 154, but no Large Female, however the occasional Large Female can be found with the Tiki stamp which was used until 1955.
The Male sitting on water swan was not made after c1955 and as many have a crack where the neck and body meet, I would say that too many had to be rejected.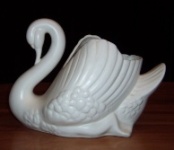 Swan photos courtesy of HeatherT and Ev
1955 to 1970
These were the popular years for the Female sitting on water swan.  Very popular as gifts for 21sts and weddings.  Every home in NZ seemed to have one.  Crown Lynn promoted the swan vases with Floral Arranging competitions and these were very popular.
1969 to 1971
By 1969 Crown Lynn had 50% ownership of Titian Potteries and total ownership by 1971.
During this time Large Swans and vases were made at the Titian factory at Takanini and were finished with Mother of Pearl and Green Lustre.  They were not stamped, but were sold through the Crown Lynn shops.

Photo courtesy of HeatherT
1981
This was the time that the Medium Swans were made by Crown Lynn at the Titian Factory in Takanini.  It has the shape number of 2147.  They were not made for very long as swans were not popular by this time, hence the short time being made.
Large Females Shape 2066 were also made.
Baby Swans Shape 2065 were made too.
Photo courtesy of HeatherT
Swan ramblings....
in a 1951 advert swans were 10/9 and 28/9
In 1958 8/9 and 33/6
In 1959 9/11 and 39/6
In 1961 a new Large Female Swan cost 48/6 (about $50) (advert Waikato Times 11.Dec.1961)
In 1984 at auction you could buy 2 Swans for $10 (Rosemary McCleod Listener 1984)
In 2008 Large Females Swans sold on Trade Me for $50
In 2020 Large Female Swans sell for around $400 on Trade Me
Salisbury Pottery bought swans from Crown Lynn and painted the beaks and eyes with a synthetic paint.
In 2017 Fake Crown Lynn Male, Female and Medium Swans were made in China and were sold mainly to Antique Dealers right around the country as well as McAlpine jugs.  The supplier was accidently found by the Police over another matter and had his pawnbroker dealership taken off him.  However these fakes are still out there causing mayhem.
De' Arn pottery made Large, Medium and Baby Swans (as well as other wares) with gold beaks and a bobbly lustred finish.  These have the Crown Lynn shape numbers on the base.  A Crown Lynn modeller looked at one and said that the base was too thin to be Crown Lynn.
This is NOT Crown Lynn.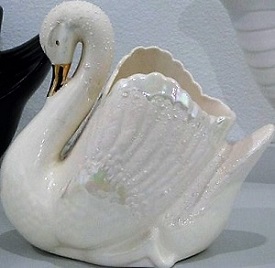 Last edited by Ev on Sun 6 Mar - 13:45; edited 10 times in total
kate, nosmada and Melita like this post
The Crown Lynn Swan Timeline has been completed
Hannele, Bliss, Truffles and Melita like this post
---
Permissions in this forum:
You
cannot
reply to topics in this forum