Please correct me if I'm wrong but I'm pretty sure this is Parker Pottery.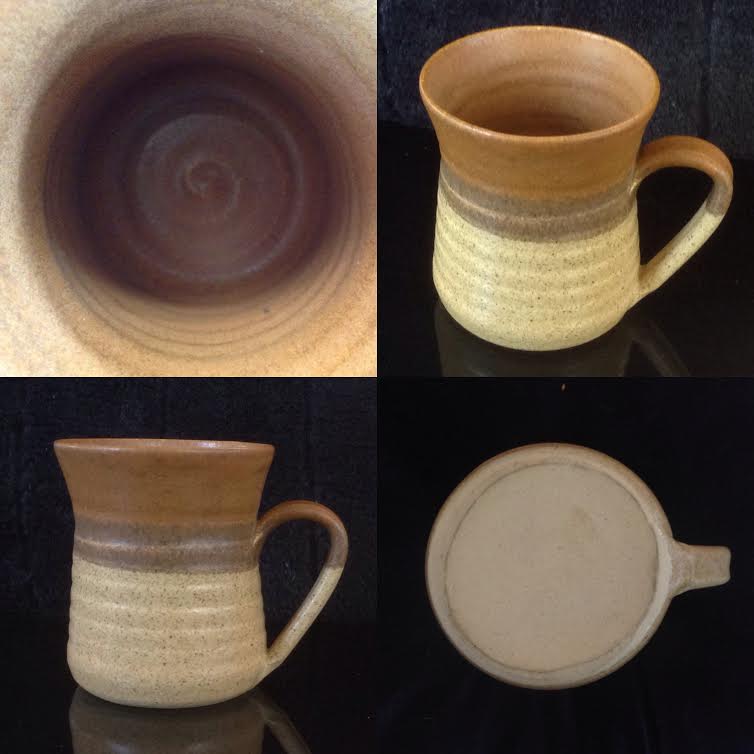 85mm H, plain base, unmarked, very similar to Beach bases
Clearly this is hand-potted rather than slipcast.
First image shows turning marks on the inside, including spiral at the base.
There is a reference to handpotted wares from Norm Parker elsewhere on the forum.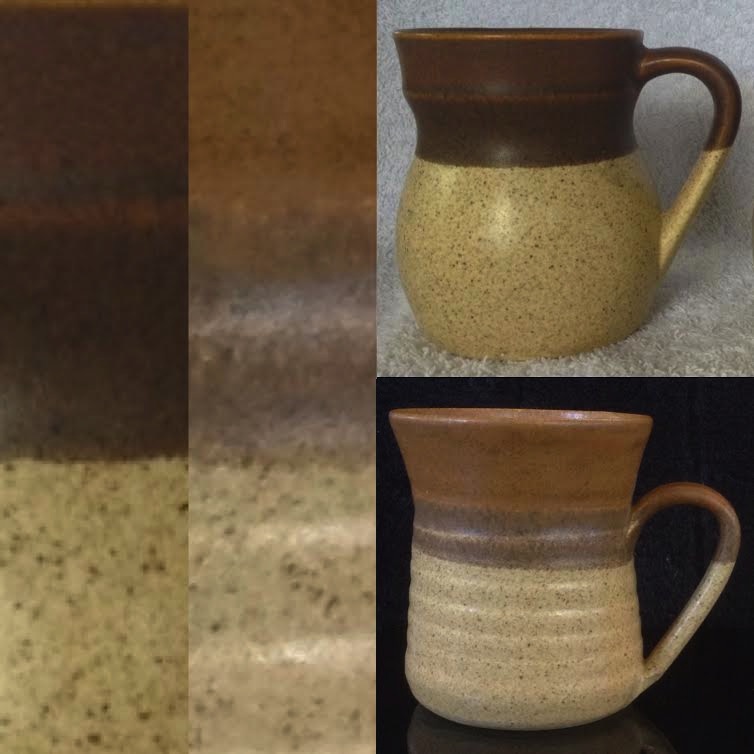 The glaze appears to be a match.
Note too that the handle shape has been retained for the slipware.
Not identical but close enough.
Ev, we do not have a Parker Pottery category yet.
Just a note on the potter's skill. This mug is very fine and thin walled.
Here again it reminds me of the Beach wares.
Last edited by Jeremy Ashford on Sun 22 Feb - 12:59; edited 4 times in total

Jeremy Ashford




Number of posts

: 3193


Location

: Whangarei, New Zealand


Registration date :

2010-09-11



I agree that the mug looks hand made Jeremy and I will put it on my list to make a Parker Gallery
Norm told me that he was a Studio Potter first then went to using moulds. He has gone to Potter's Heaven now according to Hemara. I'm so pleased to have spoken to him when I did as it made him very happy that someone cared enough about his work to contact him.
Here's another Parker handpotted mug.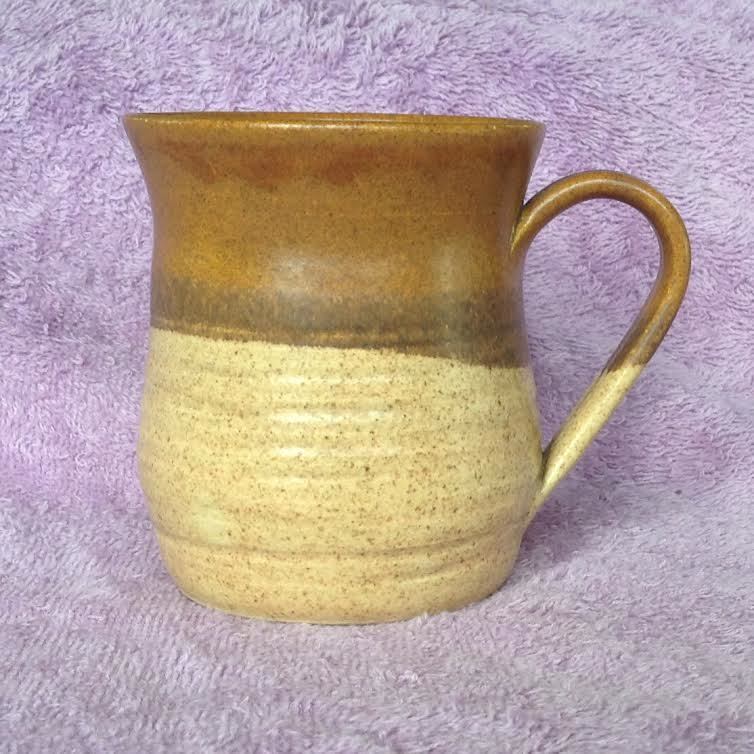 a second handpotted mug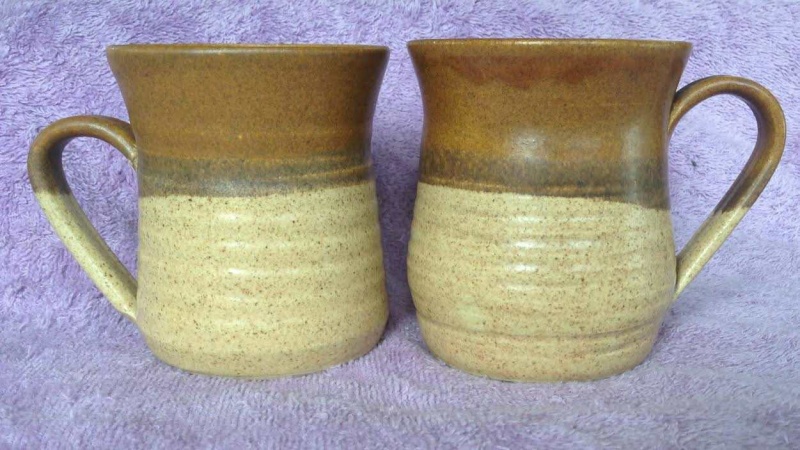 shape comparison with other Parker h/p mug
handpotted details
It was not as easy as the other to tell whether handpotted or slipcast but I'm pretty sure. The working on the inside is not as distinct and there is no spiral in the bottom as in the other. The montage shows some details that I hope will help: the upper handle fixing point is so sharp and clean that I can't see it clearing a mould; incised patterning; the handle cross-section is also a tricky one for removing from a mould and matches the other handpotted one.
Ev, I only asked for a category and you've given me a gallery: thanks.
I have some other ideas for the Parker gallery but will post elsewhere.
Afterthought
Having two of these now has made me think that another mug, the maker of which I have yet to work out, may be one of these too. I will dig it out and have another look.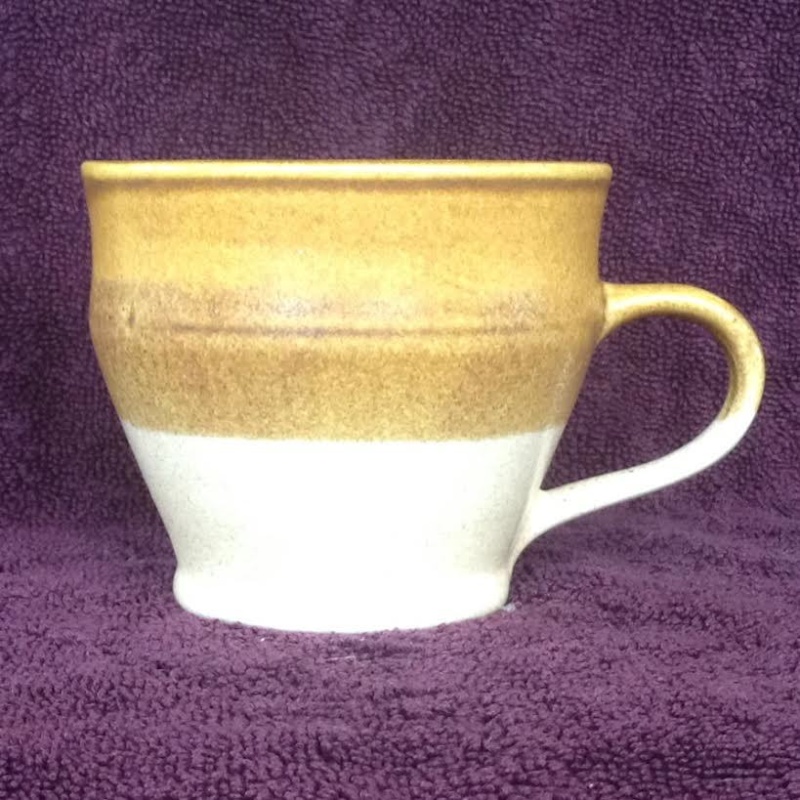 I had always assumed this was slipcast, and my memory of the handle inclines me to think that is right but until now I was not even convinced it was Parker.
To the boxes!

Jeremy Ashford




Number of posts

: 3193


Location

: Whangarei, New Zealand


Registration date :

2010-09-11



This set is one of the shapes above.
Minor variations but good consistent size and shape.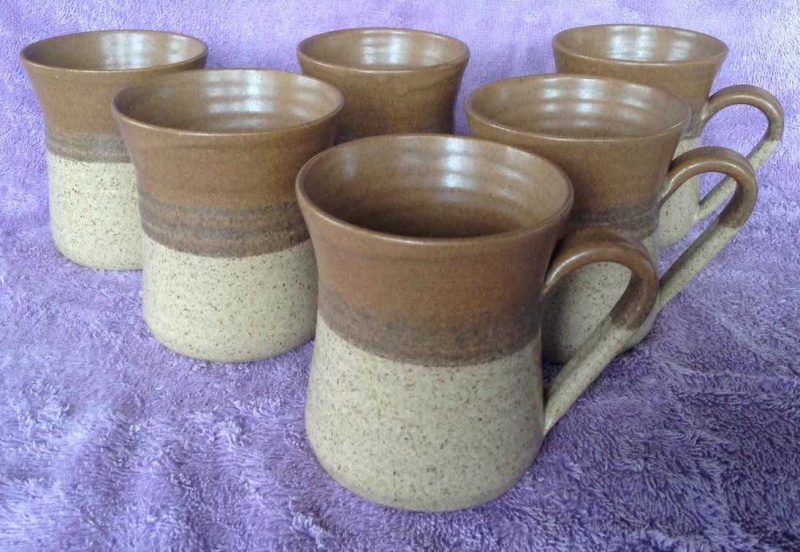 nothing is marked

Jeremy Ashford




Number of posts

: 3193


Location

: Whangarei, New Zealand


Registration date :

2010-09-11



Greetings Folks,

All the hand-thrown examples may have spanned 4 years (1976-1980ish). There may have been variances in the glazes over this time, and there were 3 hand throwers employed. Dad, a younger lad called Reg? and a guy that was around 30-40 years in age.

From what I remember (as a kid at 10 years old), the later persons quality varied by how he was paid (by the unit, less than ideal, by the hour, great work, but not many).

Reg decided to do his O/E which inspired Norm/Dad to change out hand-thrown to slip & cast, and that change moved the business from the house to factory in Henderson.

The odd "cast" example (narrowish bottom) I do not recall.

Heres a home garage shot of Dad, Mum and Reg
[url=https://servimg.com/view/20467448/1]


DaveP




Number of posts

: 1


Registration date :

2017-11-19



Ev, Jeremy Ashford and JanPots like this post
Thank you so much DaveP as this history is important.
I wonder if Reg worked at Beach before going to Parker Pottery?
If so then he is now working for Bob Steiner who credits him as being the best glazer ever!
Sorry I can't recall his name atm ...
Jeremy Ashford likes this post
---
Permissions in this forum:
You
cannot
reply to topics in this forum