I lost my big post when I stuffed up the new photo loader : (
This jug is very special as it is not included in the Crown Lynn records.
It has the number with a dot and part of a Made In New Zealand stamp, so it is definitely from the Ambrico days, pre Crown Lynn.
The clay is yellowish straw coloured and has a clear glaze over it.
Even with the chips, cracks and crazing my heart was fluttering when I saw it listed on Trade Me, knowing how significant it was.
The shape design matches the 734 Gravy Jug and also the Paris Ware cup and saucer with it's three ridges part way down. Jeremy picked up on this and thinks it is part of the Paris Ware dinnerware and I'm inclined to agree with his thoughts.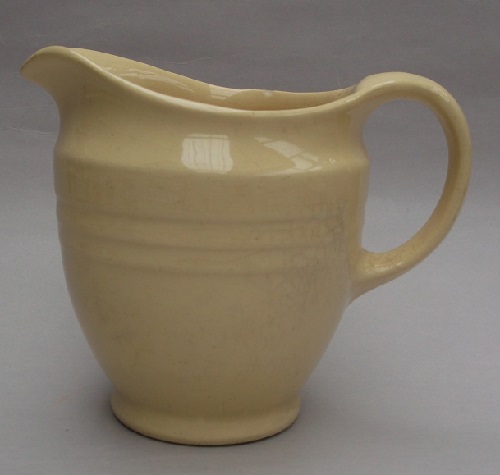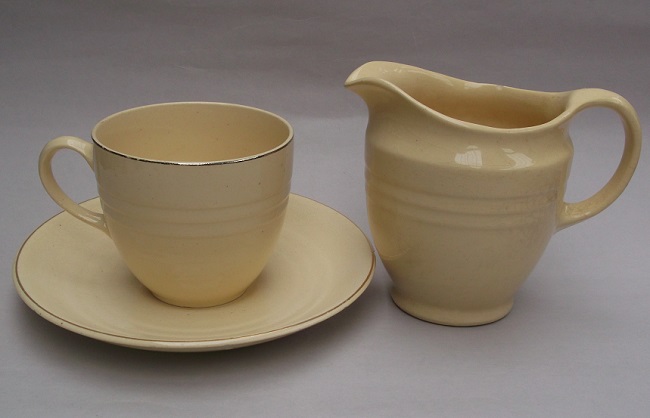 I wonder if this and the rest of the Paris range was designed by A.J.C Fisher of the Elam College of Fine Arts. New Zealand didn't have 'industrial designers' as such in 1942-43, but the Manpower Commission might have put Fisher in touch with Crown Lynn to design this sort of thing as a wartime necessity.

The spout reminds me very much of those other jugs we know were designed late in the war by Fisher. There were very few people in the country who would have been considered qualified enough to do this sort of thing.

We have two other CL jugs here from about 1943 that seem to have a designer's touch to them and may be related to the Paris range. A designer, I might add, who was definitely taking leads from people like Keith Murray.

teaandcoffee




Number of posts

: 331


Registration date :

2012-04-22



I have no idea where I read or heard that the jiggers they made the Paris flatware on had the three ridges built into them and this makes sense. However this does not explain the likes of the jugs that would have been slipcast, so someone would have designed them and a mould maker would have made the moulds. This is an incredible achievement in those early days.

Jeremy Ashford




Number of posts

: 3193


Location

: Whangarei, New Zealand


Registration date :

2010-09-11



I don't know if Vic Lawson was there this early.  I do know that he used the dot at each end of the number later on.
teaandcoffee I stumbled upon a handwritten piece that I came across at the Portage Museum from the Kiwi News 1 Feb 1944 with the heading Crockery Made in New Zealand by Young Aucklander.

There are many interesting points, but one stands out ....
"A.J. Fisher is in charge of the artistic side.  After the war the factory will be in a position to turn out dinner sets and all sorts of pleasing pieces of pottery in x50 different shapes and designs."

Now I'm going to have to relay the rest of the article !!

x4000 pieces/pots per day 5 days 20,000, 6 days 24,000, 7 days 28,000

New works being erected at New Lynn with kiln capable of sending out 15.000 pieces per day.

Also x1,000 plates a day will be made.
That's a great find Ev. It looks like we might have identified the man behind a lot of the early stuff.

A next step would be to delve into the Elam College archive too.

teaandcoffee




Number of posts

: 331


Registration date :

2012-04-22



Here is Te Ara's biography of A.J.C. Fisher. I note there is a big gap in their account - what he did during the war...

http://www.teara.govt.nz/en/biographies/4f15/fisher-archibald-joseph-charles

teaandcoffee




Number of posts

: 331


Registration date :

2012-04-22



---
Permissions in this forum:
You
cannot
reply to topics in this forum