I know we have these lampshades on the site ..... somewhere!  
Arghhh I can't find them.
This one is going in my kitchen and will look great with all of my studio pottery and stuff.
Now how interesting to find that this is really very light for it's size and the clay colour is a dark terracotta.
I remember these from the 1970's when they were very popular, but I don't know who made them.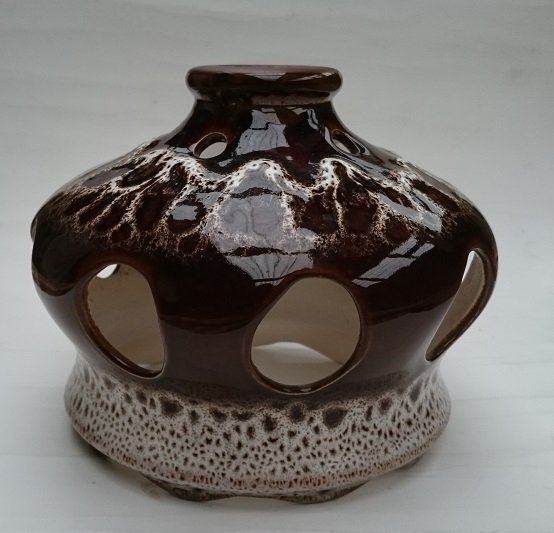 Last edited by Ev on Sat 11 Jun - 19:02; edited 1 time in total
Orzel me thinks Ev
but they got Royal Oak froth..

Kat & Co.




Number of posts

: 2299


Location

: Whangarei


Registration date :

2012-12-03



Hi, Lets look at this lamp base can you tell me if it is raw biscq inside or a clear glaze? underneath has it been nicely finished fettled and sponged or a bit ruff?
could it be a hobbie ceramic piece ? or it may be a Clay Craft It's not a Terra Ceramic piece.

signal red




Number of posts

: 70


Registration date :

2010-12-30



Hi signal-red thank you for stopping by
Here is a photo of the base and the clay is dark brown ...
It has been fired upside down on this bare clay top end.
The inside is a white tin glaze and it covers the dark brown clay very well.
The outside has contrasting glazes that break beautifully.
It has a totally professional finish and I remember these in the shops in the 1970's.
These have been slipcast using a low temperature brown clay by someone who knew what they were doing and they must have made heaps.
Thank you for letting us know that Terra Ceramics were not making these.
A listing for these shades on Trade Me alerted me to the name Cloverley Lamps.

http://www.trademe.co.nz/a.aspx?id=1253178683

Google told me that the company was incorporated in 1954 and dissolved in 2000.
Alison and Roger Crawshaw were running the company in Epsom.

Further investigation turned up that 24 Veronica St, New Lynn was where it was located and other names that this company went by ...
Dynamic Displays Ltd
Porcelain Promotions Lts
Kermiko Potteries Ltd
and the Directors were Barry and Joy Sluiters.

I think they will know who made these.  In fact they may have made them themselves !!
Exciting. I have asked a question about this on the listing. Well spotted Ev.

Maryr




Number of posts

: 1928


Location

: Whangarei


Registration date :

2011-11-17



For the record, here is my question and the seller's response... still more work to do!
HI I (and other researchers) have been searching for a maker for these lamps for some time. Can you tell me any more about how you found the maker's name. This is very exciting information. Val Monk.
Hi Val , I came across a reference by goolge - which I can't find now ! . But The posting attributed these shades to Coverley Lamps Ltd 1954 - struck off in 2016 , Alison & Roger Crawshaw directors , registered 18b Aberfoyle st Auckland . There are no stickers or marks , so it is only a possible maker !

Maryr




Number of posts

: 1928


Location

: Whangarei


Registration date :

2011-11-17



Here is more info from TradeMe about these lampshades. More questions than answers at present but we MAY yet find a maker.

https://www.trademe.co.nz/1723605190

For the record, the seller noted the following:

Many thanks to the TradeMe member who told me it was made in their garage in Milford- see their text. "Dad worked for himself, by himself. There was no connection to Royal Oak Pottery. He made ceramic light fittings for years in our garage, the entire process was all done at home - the moulds, the firing in the kiln, the glazing in the spray box and then the second firing in the kiln. Amazing really." Could this TradeMe member please contact me again!!

The fitting is made in two parts- the globe bit is made separately from the top finial- you can see where they each finish and begin. The fitting measures 30cm to the top of the brass ring on the top of the finial, about 19cm across its widest point. In very good order apart from a small chip out of one of the flutes around the bottom -see photo. Not really noticable overall. The wiring has been tested and certified as safe.

And below is my question and the seller's replies.

Hi there macfan. Pottery collectors all over NZ have been wondering for YEARS who made these lamps. I am Val Monk, I wrote the books on Crown Lynn and I am now researching other NZ commercial ceramics. Is there any way I could get touch with the person who left the message about his/her father making these.
valm (175 ) 1:41 pm, Mon 6 Aug
A. Hi Val. My wife is Ray S's cousin, I think you've met her. I've hunted back through the unsold listings to see if I could get a name but the listing don't go back far enough. I'll try another way and post a comment here if I can find the member. Cheers. 6:07 pm, Mon 6 Aug
Seller comment: Hi valm. I asked TradeMe to do some research for me. The person who told me about his father making these is a member called famwood. Research into the member shows he currently has no listings, his name is Garth and he lives on the North Shore. I wonder if his surname is Wood, hence the trademe name- just a long shot guess! 7:29 pm, Thu 9 Aug




Maryr




Number of posts

: 1928


Location

: Whangarei


Registration date :

2011-11-17



Hi Ev, I've been given a pair of these in a beautiful almost teal primary colour. I wonder, did you ever get to the bottom of who the maker was?



Rookie




Number of posts

: 1


Registration date :

2021-02-10



Hi there Rookie,
we don't have any further information, but I'm hopeful that some will turn up one day.
Did you post one on the NZ Studio Pottery Facebook page?
I saw one on there today I think.
Beautiful colour.
Jeremy Ashford likes this post
---
Permissions in this forum:
You
cannot
reply to topics in this forum