I really enjoy Lex Dawson's work.
There is a sense of unrestrained freedom about his work.
This piece was made by him and I won it in an auction in the 1970's and glazed it.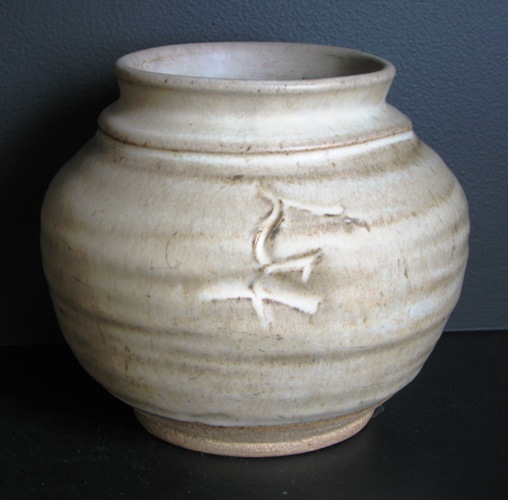 The Asian characters on the front of the vase are actually Lex's name and mark
Last edited by Ev on Mon 28 Sep - 9:04; edited 1 time in total
This is what I dream of finding when I go opshopping
I've wanted one of Lex's grunty free flowing mugs or beakers forever and I only had to part with 50c
Recently I found this Lex Dawson Coffee Pot.
Marked twice with his early stamp that we dont have in gallery yet.
It has groggy clay & cracks & bumps are all over breaking out of the clay..

Kat & Co.




Number of posts

: 2300


Location

: Whangarei


Registration date :

2012-12-03



Oh now that reminds me I have a ramekin of his with that mark that I've never posted ...... duh ! Nice pot Kat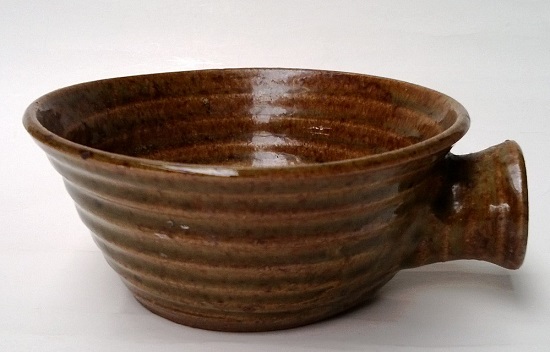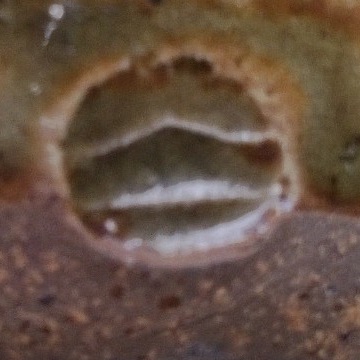 Bit of a catchup here.
I bought the Potters Arms mug from Hamish on tm and was given the other two pieces by Marcus, a few months back.

11.5cm H x 11 OD top, Lex mark
The picture shows Peter Lange, Nicky Jolly, and Lex.
When I showed this pic to Nicky she told me she did not recognise it but enjoyed the blast from the past.
8.5cm H x 7.7 OD top
8.5cm H x 7.5 OD top
.

Jeremy Ashford




Number of posts

: 3193


Location

: Whangarei, New Zealand


Registration date :

2010-09-11



Yummy!...Tenmoku Lidded Jars the one on left is 18cmh with Star mark I think maybe Lex Dawson like the one on right...Its lid is similar to the Lex marked one, including a white slip ring around the underside..what do others think?

Kat & Co.




Number of posts

: 2300


Location

: Whangarei


Registration date :

2012-12-03



Those are both lovely jars Kat, but I didn't know that Lex had an X mark ....?
It looks like a 5 pointed star stamp from here ...?

Also as the lids are constructed differently I would be inclined to think that they are made by different potters.
Very saddened to hear that Lex Dawson has moved on to Potters' Heaven.  I knew he hadn't been too well, but it's still a shock to learn that he has gone.  So pleased that I have some of his work that I have always treasured.
I recognised this as something special but could not remember whose mark it is.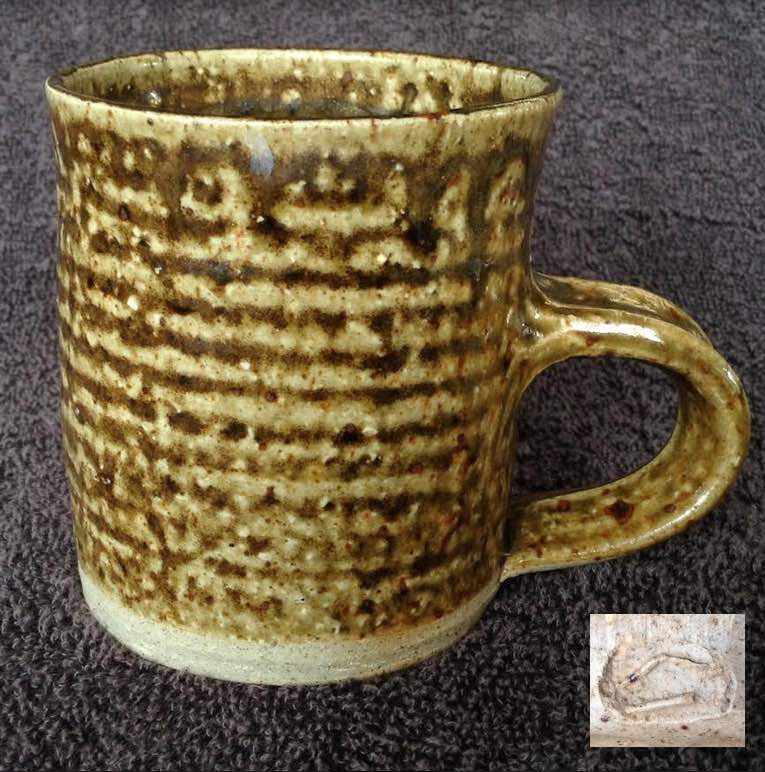 I like all my Lex mugs, and they are all so different.
But this is my new favourite.
.

Jeremy Ashford




Number of posts

: 3193


Location

: Whangarei, New Zealand


Registration date :

2010-09-11



50c
85mm OD X 75 H

Jeremy Ashford




Number of posts

: 3193


Location

: Whangarei, New Zealand


Registration date :

2010-09-11



---
Permissions in this forum:
You
cannot
reply to topics in this forum