Candy Stripe 3023 coffee cans on coloured 4017 jumbo saucers.
As saucers take up little room I make a point of picking up odd ones at the opshops and jumbo saucers (4017 shape) are sufficiently rare to make it worthwhile collecting a range of colours when they can be obtained cheaply. I have enough black jumbo saucers to pair with all* my 3023 coffee can patterns (Arthur and Martha, Captain Sharples, Purple Myrtle, and three different Candy Stripe patterns) but I have never bought a Candy Stripe can as a duo (ie with a saucer), and do not even recall having seen one, so I do wonder whether black is correct.
*All, with exception of the brown duo I got from gloworm which has matching glaze on can and saucer.
https://www.newzealandpottery.net/t6628-interesting-to-me-anyway-3023-4017-duo-in-forma-brown#26220
I bought the brown saucer, below left, from Hospice last week and the blue one today ($1 each). They look good with the similarly coloured coffee cans and are the correct shape to go with them. The backstamps indicate that these examples are not as old as the cans and (as some shapes were made differently in later years) I wonder if they may be just a little bit thick.

I'll add pics of the yellow can on its saucer when it turns up. In the meantime the brown on brown 3023/4017 duo (right) that I got from gloworm can fill its place here.
The brown is a perfect pairing. Tango Blue saucers were used with many blue-patterned cups where the blues in the patterns are not a perfect match so I'm okay with my blue "duo" too. The match with the yellow saucer (Cook & Serve yellow) causes a wee bit of concern but I think it will be the best, and likely correct, match from Crown Lynn's huge range of yellows. I think I already have a 4017 in the mustard yellow and like the yellow and orange Candy Stripe can I will find it in one of my numerous boxes one day. I saw a jumbo saucer in a bright yellow today at Sallies but checked it against the yellow/orange can in a photo on the iPad and decided pretty quickly that it was wrong, and it was $4! I have followed yellow jumbo saucers on trademe too but it is not easy tell which yellow they are, and thus whether they will be a match, from on-line pics so I have been reluctant to pay trademe prices for them.
I don't think the 3023s will display as well as the 3022s, which, apart from the black one, I bought complete with saucers, but I already prefer the coloured saucers over black for Candy Stripe.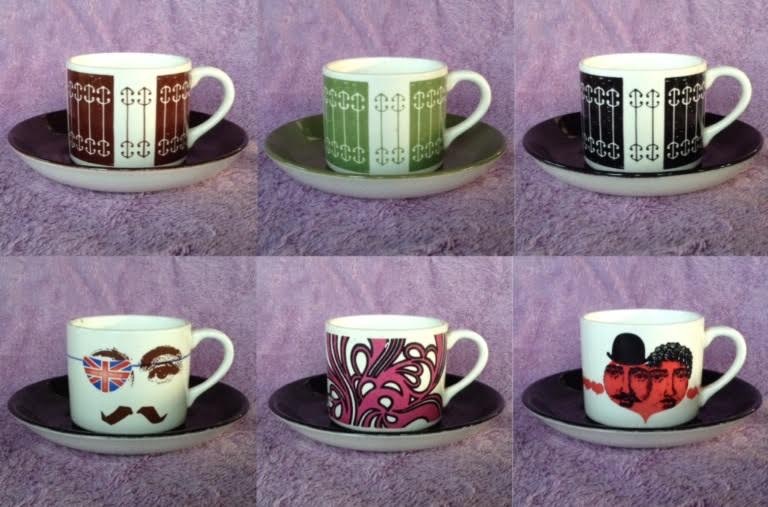 3032 cans on matching coloured saucers
3023 cans on black saucers
Does anyone have Candy Stripe cans on their original saucer?
The black saucers that came with my Purple Myrtles (which I have until now spread around my different cans including the Candy Stripes have an early Colour Glaze backstamp so I expect the same for those with Candy Stripe. (The PM cans and saucers came in a boxed set but can and saucer have different backstamps.)
See also:
https://www.newzealandpottery.net/t4855-coffee-can-shapes-782-3022-3023-3618-from-gallery-definitions?highlight=3023
https://www.newzealandpottery.net/t6628-interesting-to-me-anyway-3023-4017-duo-in-forma-brown
https://www.newzealandpottery.net/t5139-kelston-coffee-can-candy-stripe#19088
https://www.newzealandpottery.net/t3067p15-which-cups-go-with-what-saucers#16532
----------
17/12/16 Almost a correction!
Looking back over my photos I have spotted a tradme pic for a yellow/green (Cook & Serve yellow?) and orange Candy a Stripe cup for sale on an olive green saucer. I have long forgotten the auction and whether it was the correct saucer shape but it looks good. I don't keep very good records so it may even have been the one I bought!
---------
25/4/17
So, now I have made the gamble and bought the dark/olive green saucer on tm.
Photo later this week or early next.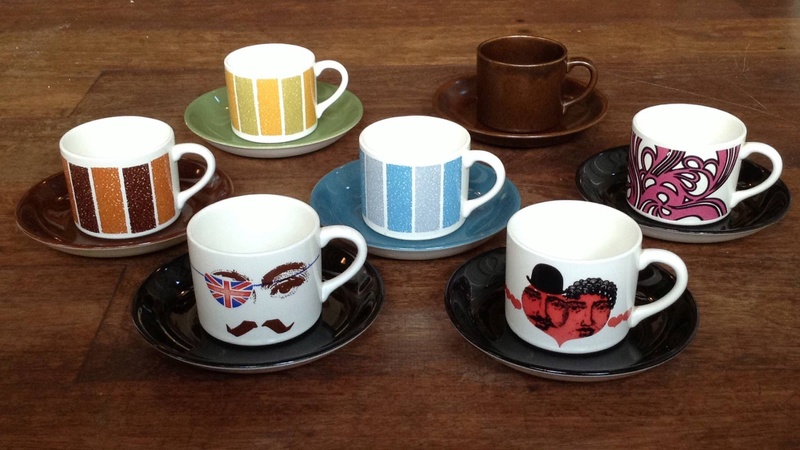 Jeremy Ashford




Number of posts

: 3183


Location

: Whangarei, New Zealand


Registration date :

2010-09-11



---
Permissions in this forum:
You
cannot
reply to topics in this forum